22nd Annual Duck Race in the Books
Joe Denoyer - September 23, 2023 5:28 pm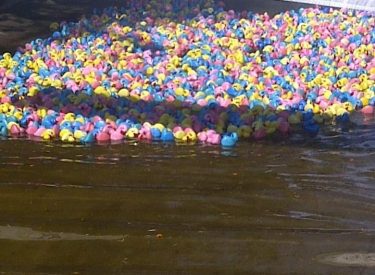 The Liberal Chamber of Commerce celebrated the 2023 Duck Festival in Light Park on Saturday. There was food, fun and festivities all day long culminating with the "Duck Race" at 2:00pm.
Activities throughout the day included the Seward County United Way Chili Cook-Off Ducky Downs, Trike Races, Bounce houses, Booths, Cornhole Tournament, and more.
Winners in the Duck Race, the top eight and the "Hard Luck Duck" were: Southern Office Supply employees in 1st, winning $5000, Charla Light-Sallaska 2nd, $2000, Bob Decker 3rd and $1000, , Kyle Weber 4th,$500, Colleen Johnson, 5th $400, Omar Ibanez 6th, $300, Danica Miles,7th $200, and Stephanie Condee in 8th for $100. The Lucky Duck picked belonged to Del Lambley and was good for $500.
In the Chili Cook-Off Competition Sponsored By the Seward County United Way, Jamie Williams took 1st Place, Blanca Esparza in 2nd, with Crossroads in Third. Williams also won People's Choice.