2018 Seward Volleyball Preview
Brock Kappelmann - August 14, 2018 1:46 pm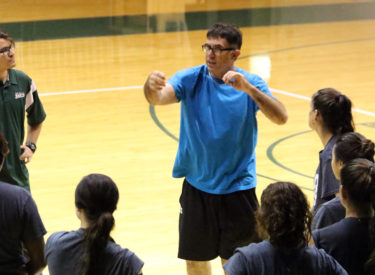 LIBERAL, Kan. – The Seward County volleyball team will feature a sea of fresh faces in the 2018 season following yet another record setting year, winning back-to-back Jayhawk West Championships for the first time in 17 years.
Perhaps the most notable of these fresh faces is first year Lady Saints head coach Tony Trifonov. Trifonov comes to Seward following a twenty-one-year stint with NCAA Division I Florida A&M University. Over his twenty-one-year career with the Rattlers, Trifonov accumulated a 378-218 overall record, while going a stunning 206-10 in the Mid-Eastern Athletic Conference, winning the MEAC nineteen times. From 2001-2008, the Rattlers won 112 consecutive conference matches, the third longest streak in NCAA history.
Joining Trifonov will be first year assistant coach Parker Thompson. Thompson, like Trifonov, comes from the NCAA Division I ranks, spending two and half years with Penn State University's women's volleyball team as a practice player and traveling manager.
The Lady Saints are coming off a 2018 campaign that saw them go 33-2, including a perfect 16-0 in the Jayhawk West to clinch their sixth conference title.
Losing four sophomores to graduation, including NJCAA 1st Team All-American and KJCCC Most Valuable Player Giovanna Kuntze, the Lady Saints return four strong student-athletes for their 2018 campaign. Sophomore right side Giovanna Tapigliani, 2017 Jayhawk West Freshman of the Year and 1st Team All-Jayhawk West selection, looks to lead the team alongside sophomore middle blocker Luz Sierra. Tapigliani led the Lady Saints in kills (435), while ranking second in attack percentage (.339). Her kills and kills per set (3.57) placed her second for the Jayhawk West in both categories.
Sierra also enters 2018 with elevated expectations following a freshman campaign that led to a 2nd Team All-Jayhawk West selection. Sierra led the Jayhawk West in blocks (154) and blocks per set (1.48), while ranking 5th in the NJCAA in blocks per set.
Other key players returning include libero Nathiellen Machado and setter Esmadar Tavares. Machado led the Lady Saints with 457 digs in 2018 and reached doubled-digit digs in her first 10 career matches. Tavares will have work to do to make up for Kuntze's lost assists. During her freshman campaign, Tavares ranked second on the team in assists (79) and assists per set (2.03).
The Lady Saints will have two transfers join their squad this season. Middle hitter Aundrea Boyland comes to Seward after spending her freshman season at Texas Southern University, while setting Kenzie Dewell spent her first semester at Ottawa University.
Ten freshmen will join the Seward for the 2018 season. Setter Celenia De Leon (Santiago, Dominican Republic), middle hitter Thais Vieira (Sao Paulo, Brazil), libero Asia Jhun (East Honolulu, Hawaii), outside hitter Gabrielle Woodall (Amarillo, Texas), setter Laura De Pra (Sao Paulo, Brazil), outside hitter Anna Steger (Georgetown, Texas), middle blocker Dorianne Lebron (Guayama, Puerto Rico), outside hitter Djuly Schamorantz (Rio Grande do Sul, Brazil), outside hitter Jayden Korf (Hugoton, Kansas), and outside hitter Tapanga Johnson (Independence, Missouri) all look to make a strong impact in helping the Lady Saints succeed.
The Lady Saints have one pre-season tournament before the season officially begins. They will travel to Southwest Oklahoma State University on the 18th to take on Northwestern Oklahoma (12 p.m.), Southwestern Christian (1 p.m.), Cowley (2 p.m.) and Southwestern Oklahoma (3 p.m.).
Seward will open the season on the weekend of August 24th at the New Mexico Military Institute Kick-Off Classic. They will face off against Yavapai (12 p.m.) and Panola (6 p.m.) on the 24th and have games against South Mountain (11 a.m.) and Pima (3 p.m.) on the 25th. Their first home match will be against Garden City at 6:30 p.m. on September 1st. Admission is free for all home volleyball matches.