2016 Babycakes Is Born
KSCB News - February 12, 2016 7:56 am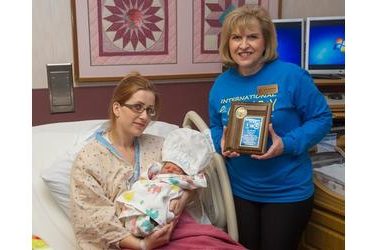 he Pancake Day Baby Cakes Award this year goes to Jovany
Abel Bustos, who was born at 7:28 a.m. on Feb. 10, the day after Pancake
Day, to Sara Valezuela and Joseph Bustos. He weighed 7 lbs., 5 oz. and was
20 inches long.
The Baby Cakes award is presented each year to the first baby to arrive on
Pancake Day, or the closest day after, at Southwest Medical Center. Jovany
received a miniature chef's hat embroidered with the Pancake Day logo, a
plaque, and a basket of baby necessities from the Pancake Day Board. In
addition, the family received child development information and a gift of
children¹s board books from Russell Child Development Center.