2015 Pancake Day Talent Show Finalists Announced
KSCB News - January 26, 2015 7:56 am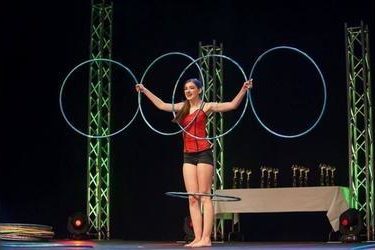 Twenty-two acts have been selected from video auditions as finalists and will now compete in the Pancake Day Talent Show, set for Saturday Feb. 14 in Liberal. Contestants will vie for cash prizes and trophies in four age divisions and will also have a chance to win the People's Choice Award.
Finalists are as follows:
Tiny Tot Division
Sayler Stapleton – Jazz Dance – "Daddy Loves to Rock and Roll"
Cianna Rogers – Vocal – "Crawdad Hole"
Cash Wheeler – Dramatic Monologue
Faith Beesley – Vocal Solo – "Patriotic Medley"
Dance Images Tiny Troupe – Dance – "Devil with the Blue Dress On"
Bentley Fitzgerald – Piano and Violin – "Yankee Doodle and Hot Cross Buns"
Junior Division
Korben Clawson – Piano Solo – Rhapsody Brillante
Jensen Mettlen – Jazz Dance – "Run Away Baby"
Mini Dance Troupe – Jazz Dance – "Sparkling Diamonds"
Sydney Beesley – Vocal Solo – "Zing Went the Strings of My Heart"
Abbie Dowell – Dance – "I've Got the Music in Me"
Grace Crossman – Vocal Solo – "Orange Colored Sky"
Senior Division
Walker Clawson – Piano Solo – "River Flows in You"
Sydney Matthews – Vocal Solo – "Leavin' On Your Mind"
Arthur Schwab – Vocal Solo – "Love Goes On"
The Wicked Girls – Vocal Duet – "What Is This Feeling?"
Dance Images Dance Troupe – Jazz Dance – "Bang Bang"
Mariah Rome – Hula Hoop Dance – "Applause"
Adult Division
Isabelle Williams – Vocal Solo – "Don't Rain on My Parade"
Katelynn Draper – Vocal Solo – Medley
Kyla Mills – Vocal Solo – "I Dreamed a Dream"
Tressa Studt – Vocal Solo – "I'm a Survivor"
The Pancake Day Talent Show is slated for 7:30 p.m., Sat. Feb. 14 in the James Maskus Auditorium at Liberal High School and will spotlight these acts as they compete for trophies and prize money in four divisions. Tickets are $8 in advance and $10 at the door. Advance tickets may be purchased at the Tourist Information Center, One Yellow Brick Road; the Pancake Day Hall of Fame; or First National Bank in Liberal. For more information, call 620-624-6423.