1960 Liberal Bee Jay and Major Leaguer Ken Berry Coming To Liberal
KSCB News - October 14, 2015 4:49 pm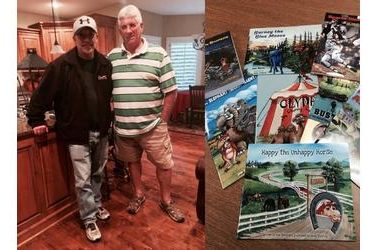 Former Liberal Bee Jay and Major League baseball All-Star, Ken Berry, will return to Liberal October 27th,for a book signing and also to read to MacArthur and McKinley Elementary students.
Berry played for the Liberal Bee Jays at the old "Fairgrounds Park" in 1960 and was the first Bee Jay ever to make it to the Big Leagues. He signed with the Chicago White Sox shortly after the 1960 Bee Jay season. Ken Berry played for 4 Major League teams from 1965-1975: The Chicago White Sox, Califonia Angels, Milwaukee Brewers, and Cleveland Indians. He won the Gold Glove Award as a centerfielder for the White Sox in 1970 and the Angels in 1972. Berry was a member of the 1967 All-Star team. He finished his 11 year playing career with a fielding percentage of .989.
Ken recently finished a 26 year career as a minor league coach, manager, and roving instructor working with hitters, outfielders, and base runners. One of the players he mentored was John Elway. Berry was a hitting instructor with the Kansas City Royals in 1985 when the Royals won the World Series. Berry also was the baseball consultant and appeared in the movie, "8 Men Out".
Recently Ken has turned his talents to writing and has authored 6 childrens books, Artie The Awesome Apple, Barney The Blue Moose, Clyde The Clumsy Camel, Buster The Beaver Who Wouldn't Brush, Happy The Unhappy Horse, and X.L. Elephant(Secret Agent). He has also completed his first Novel, Twin Snipers.
At the Invitation of Joe Denoyer, Ken Berry will be in Liberal on October 27th and will meet with the Liberal Bee Jay Board, then on October 28th he will be reading to the students at MacArthur Elementary School. That evening, Berry will be at Liberal Memorial Library for a book signing. He will also be sharing baseball stories with those in attendance, and will be answering questions, signing autographs, and will be available for photographs.
On October 29th, Berry will be at McKinley Elementary School to read to the students there. At the elementary schools, in addition to him reading, Berry will let the children try on his Major League baseball glove, and his World Series ring. Berry also says before children leave to go back to the classroom, they must give him a "High 5".
Copies of all of Berry's books will be available for purchase at $8 for the children's books and $15 for the novel. Each book is personally signed by Ken. With the purchase 3 or more books and you'll also receive a photo of the 1967 Sports Illustrated cover (of Mickey Mantle and Ken) autographed by Ken.
Everyone is invited to come out and meet baseball all-star Ken Berry. For more information on the event, you can call Denoyer at 620-391-1538 or for more information on Berry's Children Books, go to www.applesand animals.com