17 yr old Dies In Pedestrian, Car Accident
Joe Denoyer - January 19, 2017 12:50 pm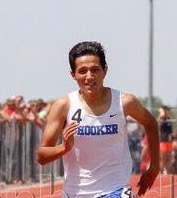 A Hooker High School student who was struck by a vehicle while running Thursday morning has died.
According to Oklahoma Highway Patrol, the 17-year-old male died on Friday, Jan. 20, from injuries received in the collision, which happened Thursday morning around 7 a.m. about half a mile west of Hooker.
OHP said the cause of the collision was the action of the pedestrian, Bladimer Mesta, who was a cross country runner at HHS.
Conditions when the collision happened were foggy. The student was life-flighted to Wesley Medical Center in Wichita, Kansas, in critical condition.
According to OHP,   Mesta received head, leg, trunk and internal injuries.
Faulkner said he was praying that he wouldn't have to have the meeting with students at HHS, telling them that the Mesta had died.
"It's the hardest thing you have to do as a school administrator," Faulker said, "having to have that talk with the student body and share that information."
Faulkner said the Mesta was a championship runner who loved to run and compete in cross country and track. He said the student was the kind of person with dedication who was always trying to stay in shape so he could do his best.
"We are wishing the family strength to get through this," Faulker said. "The school, kids, teachers and community will all pull together to help the family get through. That's what's great about living in a small town."