14 Year Old Driving Minivan In Fatal Accident
KSCB News - September 3, 2009 12:00 am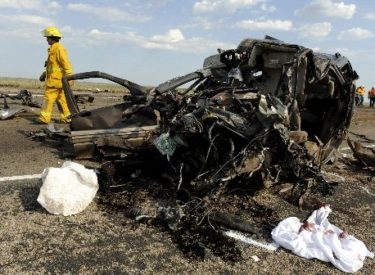 Authorities say a 14-year-old girl was driving the minivan that collided with a big rig Wednesday north of Pampa, killing five people.
The Department of Public Safety said this morning that Aime Banuelos was distracted by something inside the vehicle when it crossed the center line of Texas Route 70 in Roberts County.
Banuelos; her brother, 15-year-old Juan Banuelos; their mother, 46-year-old Teresa Martinez; 16-year-old Jeff Pace; and 74-year-old Estafana Cortez-Rosales were all killed.
They were all Booker residents, except for Cortez-Rosales, who was a Perryton resident.
The truck driver, David Arnold of Casper, Wy., was traveling northbound when he attempted to avoid striking the southbound minivan, authorities said. Arnold turned his vehicle, which was hauling oversized equipment, to the right in an effort to avoid the collision. Arnold was driving with an escort vehicle in front of his rig.
A sixth occupant of the minivan, 5-year-old Celeste Espitia of Booker, was airlifted to Northwest hospital in Amarillo following the accident, according to DPS. She was listed in stable condition this morning at the hospital.
It was not immediately clear why the 14-year-old was driving the minivan at the time.
The accident happened about 1:40 p.m. Wednesday approximately 10 miles north of Pampa. The minivan was traveling to Amarillo at the time. Aime Banuelos, her brother and Pace were all students at Booker High School.