125 to Become US Citizens at Wichita State Friday at 11 a.m.
Joe Denoyer - June 16, 2021 7:58 am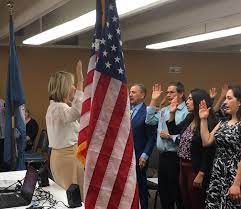 U.S. Citizenship and Immigration Services and the U.S. District Court of Kansas will welcome 125 new U.S. citizens Friday at Wichita State University. U.S. Bankruptcy Judge Mitchell Herrer will preside, and a clerk of the court will administer the Oath of Allegiance.
The citizenship candidates originate from 29 countries: Benin, Brazil, Bulgaria, Burma, Canada, China, Congo (Kinshasa), Cuba, El Salvador, Egypt, Eritrea, Ethiopia, India, Iran, Jamaica, Jerusalem, Kenya, Laos, Mexico, Nepal, Nigeria, Philippines, Poland, Somalia, South Africa, Sri Lanka, Sudan, Vietnam and Zimbabwe.
The citizenship candidates live in Alstead, Andover, Coffeyville, Copeland, Derby, Dodge City, Garden City, Haysville, Holcomb, Hugoton, Hutchinson, Independence, Johnson, Kirwin, Liberal, Meade, Montezuma, Newton, Peck, Salina, Wichita and Winfield.