12 Year Old Makes A Difference At Crossroads
KSCB News - June 4, 2012 8:21 am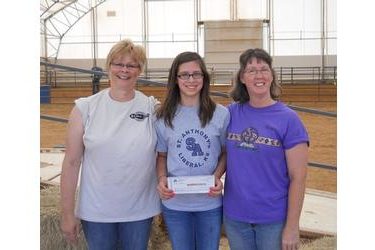 Twelve-year-old Taylor Garza, daughter of Melissa and Adam Garza, presented a $120 check to Crossroads Center on May 29. The money will be used to help the center continue to provide horse related activities to individuals with disabilities. When Taylor heard about the damage to the center's riding arena roof in a recent storm, she decided she wanted to help.
Taylor had attended the center's volunteer training session earlier this spring and was all set to begin helping with lessons as a volunteer when the storm tore off half of the arena's roof. Riding lessons had to be postponed until the storm damage could be repaired. Taylor researched different ways she could raise money to help with the center's repairs. She decided to raise money through selling things at her family's garage sale.
Taylor said she became interested in volunteering at Crossroads because of her love of horses and her desire to help other children. She also thinks this will be a good learning experience for herself. Taylor has been helping groom the horses and assist with riding lessons ever since riding resumed last week.
Although some repair work remains to be done on the arena, the center is back on schedule. Anyone interested in helping at Crossroads Center or finding out about riding for individuals with a disability should contact Rena Cross, Executive Director, at 620-624-3133. Services are provided to children and adults at no charge, but riders do have to go through an application process and wait until an appointment time becomes available.