#12 Lady Saints Hold Off Barton
Brock Kappelmann - January 27, 2020 5:56 am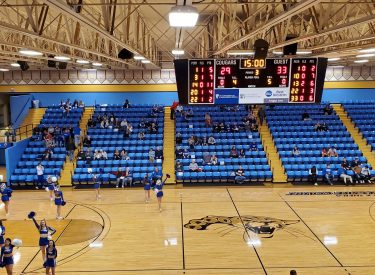 GREAT BEND, Kan. – No. 12 Lady Saints defeats Barton Community College 69-63 and improves to 17-3 overall and 12-0 in Conference play. In the final minute, the Lady Saints led 66-63 and the Cougars would foul Aquila Macubaquire, the sophomore connected on both free throws to secure the road victory.
The first quarter set the pace for the rest of the game with both teams exchanging baskets. Gina Ballesteros connected on back to back three's as she went 2-3 from behind the three-point line in the first quarter. The cougars Vanessa Oduah came up with two threes of her own to get the game tied at 15 to start the second quarter.
Lady Saints turned to their bench in the second quarter and Alanis Hill provided 6 points in the quarter to help Seward gain a lead as they headed into the locker rooms with a 33-29 advantage. As a team, the Lady Saints shot just 33.3 percent from the field and just 25% from behind the three-point line.
In third-quarter, Karolina Szydlowska connected on a transition basket to give the Lady Saints their largest lead of the game at 43-31. Barton responded on an 8-2 run to make a two-possession game once again but the Lady Saints again responded to give them a 55-47 heading into the final quarter.
The Cougars started the fourth quarter with another 8-2 run to get the game back within two points, 57-55. Lady Saints responded on 9-2 run with offensive sets that worked to perfection to give them a 66-57 lead. Barton came back with back to back threes from Vanessa Oduah and Richelle Turney to make it one position game again at 66-63 with 43 seconds left.
Aquila Mucubaquire got fouled with 24 seconds left and went one of two from the free-throw line but it was enough to give the Lady Saints the separation they needed. The Cougars in desperation had a three point shot attempt but could not connect as Leilani Augmon got the defensive rebound and sealed the game from the free-throw line.
Cougars were paced by Richelle Turney with 20 points and nine rebounds. Oduah had 16 points and D'Shonda Hunt shot 5-10 from the field for 14 points.
Augmon led Seward with 15 points, seven rebounds, two steals, and two blocks. Szydlowska had her sixth double-double of the season with 13 points and 10 rebounds. Gina Ballesteros provided 12 points and Tiana Johnson had 11 points for the Lady Saints.
No. 12 Lady Saints will be back in action on Wednesday at 6 PM in the Greenhouse to take on Northwest Kansas Technical College.  Holiday Inn Express is the game sponsor  and the game  airs on B107.5 and kscbnews.net.
https://soundcloud.com/user-538336933/sets/lady-saints-at-barton-1-25-20