10 To Compete In International Pancake Race
KSCB News - February 28, 2011 8:00 am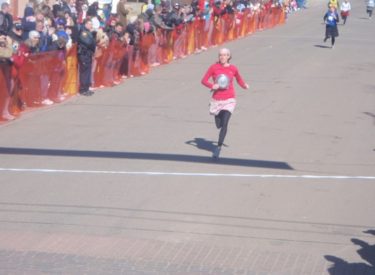 It could be anyone's race this year, as the ten ladies who will run in the Mar. 8 International Pancake Day Race include nine first-time competitors. The latest entrants are Jessica Simpson, 26, Hillary Austin, 22, Kourtney Maisog, 23, Karen Crow, 23, and Rebecca Rees, 23. They join Amanda Hatch, 22, Nicole Schowengerdt, 28, Misty Vaught, 35, Melanie Knudsen, 19, and Mikayla Knudsen, 21, who placed second last year and will be competing for the fourth time.
The Men's Pacer Race also has ten runners: Robert "Pino" Hildreth, 30, John Vaught, 34, Sheldon White, 27, Paul Clayton, 22, Gar Walters, 51, Alex Richards, 18, Benito Rivera, 18, Brent Evans, 37, Mike Brack, 42, and Eusebio Lopez, Jr., 20.
Eleven women are set to compete in the Women's Last Chance, including Cindi Knudsen, Pat Greer, Brigitte Flores, Brenda Rogers, Linda Odle, Annette Ratlief, Shirley Scott, Deena Fuller, Nancy Duncan, Luz Riggs, and Amelia Adams.
The International Pancake Day race, a friendly little competition between Liberal, Kansas, and Olney, England, with women running down the streets of each town flipping pancakes, has been going on more than 60 years now. It is still the only race of its kind on the planet.
On Shrove Tuesday, Mar. 8, 2011 at 11:55 a.m., the race goes on again, with the overall score standing at 35 wins for Liberal and 25 for Olney. In 1980 the score didn't count, because a media truck blocked the finish line in Olney.
Racers must still wear a head scarf and apron and the runner must flip her pancake at the starting signal, and again after crossing the finish line, to prove she still has her pancake.
Winning scores have traded back and forth between the two towns. The record time was set just two years ago in 2009, when Liberal's Tasha Gallegos won with a time of 57.5 seconds, breaking the previous record held by Liberal's Lisa Spillman since 2001. Spillman, a three-time winner, finished the 415-yard S-shaped course in 58.1seconds that year.
For more information on any event, call 620-624-6423.