�??Tidings of Comfort and Joy�?� Concert set for 2 p.m. Sunday, Dec. 7
KSCB News - December 3, 2014 7:59 am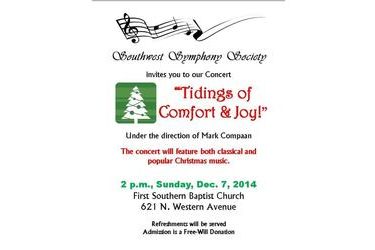 The public is invited for music and treats as the Southwest Symphony Society presents its Holiday Concert, "Tidings of Comfort and Joy" concert at 2 p.m. Sunday, Dec. 7, at the First Southern Baptist Church, 621 N. Western Ave. There is no admission charge but a free will donation will be accepted and memberships may be renewed at this time.
This concert will feature both classical and popular Christmas music, under the direction of conductor Mark Compaan. "This is definitely the concert to get you in the mood for Christmas," said Kay Burtzloff, president of Southwest Symphony Society.
A quintet will start the concert with "Silent Night," "March from the Nutcracker," "Greensleeves," and the Wassail Son g. The string orchestra will follow "Do You Hear What I Hear?", "God Rest Ye Merry Gentlemen," "Winter Wonderland (Let it Snow)", "Christmas Eve/Sarajevo 12/14" and "Jingle Rock."
After intermission, the full orchestra will perform "Tidings of Comfort and Joy," "The Christmas Waltz," "A Bach Christmas," "Rudolph, the Red-Nosed Reindeer," "The Polar Express," "Sleigh Ride," and "It's the Most Wonderful Time of the Year."
Orchestra members include Violins – Bethany Adams, Chris Seeman, Blinda Massa, Megan Sims; Viola- Nancy Allen, Troy Skinner; Cello – Laura Hopkins,; Oboe – Alisa Henderson, Margaret Porter; Bassoon – Lydia Augustine, Jasmine Howell; Flute – Claire Strachan, Jerilee Rediger, Jordyn Apsley, Luis Garcia; Clarinet – Shelly Rowson, Kim Slasor; Trumpet – Claire Wilson; Baritone- Catherine Martin; French Horn – Myron Perry, Troy Skinner; Percussion – Grant Mathews and Piano/Percussion – Donna Apsley
The Southwest Symphony Society is a Liberal non-profit organization dedicated to promoting classical and contemporary music in the community utilizing the talents of local and professional musicians. For more information, contact Burtzloff at 629-0203.