Walks Costly in Loss at Wellington
Brock Kappelmann - June 13, 2019 6:44 am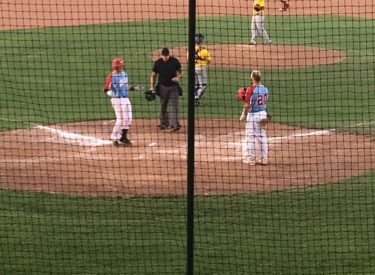 Liberal Bee Jay pitchers walked 12 on the way to an 11-6 loss at Hibbs-Hooten Field in Wellington Wednesday night.  The BJ's out hit the Heat 8-7.  Eight of Wellington's 11 runners who scored reached base on a walk or beanball.  Heat pitching walked one and beaned one. That was the difference.
Riley Bost was solid going four inning with eight strikeouts. But he walked five and allowed three runs.  Liberal's bullpen allowed eight runs in four innings in just four hits.
The Heat plated one in the first but stranded seven runners in the first three innings. Wellington plated two in the fourth.  Wellington pitcher Brandon McPherson was perfect through five. Trevor Beard led off the sixth with a double and scored on Colton Moore's homer to right. Trailing 11-2, the Bee Jays scores four in the ninth. Jordan Williams singled home two and Brandon Holdren and Colton Moore provided RBI singles.
Liberal is 7-3 overall and 6-3 in the Kansas Collegiate. The Heat are 10-2 and 6-0 in league. The same two teams play Thursday night at 7 in Wellington on 1270 and kscbnews.net.