Unlikely Hero Collects KJCCC Pitcher of the Week Award
KSCB News - April 27, 2016 4:38 pm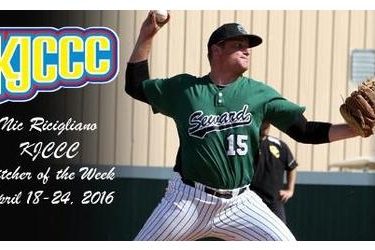 One month ago, Seward County sophomore Nic Ricigliano was a third baseman buried on the Saints depth chart, getting an occasional at bat during a meaningless non-conference game. In an incredible change of fate that has seen Ricigliano make the move to the mound over the past few weeks, the Colorado native was named the Jayhawk Conference Pitcher of the Week in a release Wednesday afternoon after a masterful performance against Barton over the weekend.
In what has become the story of the Saints season, third baseman turned pitcher Nic Ricigliano threw his second straight complete game Sunday in just his second start on the mound as a collegian. He went the distance against Barton in game four, tossing a five hit shutout against the Cougars, striking out five.
Ricigliano has now thrown complete games in each of his first two collegiate starts, beating Jayhawk blue bloods Butler and Barton in the process. On the season Ricigliano's numbers have been solid in limited action, posting a 3-1 record with a 2.57 ERA in 28 innings pitched.
Ricigliano will get the ball again on Sunday as the Saints take on Dodge City in what has boiled down to a must win series for the guys in green. Seward needs three wins in the series to clinch a home playoff spot while a series split will do the trick for the Conqs.