Triple the Pleasure for Redskins
KSCB News - February 4, 2012 7:55 am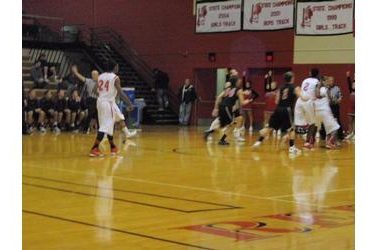 How does this happen? For a second straight year, Liberal and Great Bend played to triple overtime in the Big House. Last year Great Bend won the game but this season, the Redskins get a 77-75 win in triple OT. Up four in the closing seconds, Drew Gruver instructed his players to stand in the lane so they wouldn't foul. Great Bend hit a layup at the buzzer but it wasn't enough for the Panthers (5-10, 1-3).
This was a tight game throughout. Liberal led 12-6 early and 12-9 at the end of the first. The Panthers came back and led 22-19 at halftime. LHS led 27-25 at the end of three. The Redskins took a 31-25 lead with 6:35 to play. Great Bend raced back for a 40-37 lead but a B.J. Washington three pointer tied the game at 40 with 2:05 to play. A driving lay up by Andre Jackson tied the game at 44 with 20 seconds remaining. Great Bend's Jace Bowman missed a shot at the buzzer.
In overtime, the Panthers bolted ahead 57-53 before Osvaldo Villareal nailed a three pointer to make it 57-56 with :36.8 to play in OT. The game finished tied 58-58 in the first overtime. They finished tied 65-65 at the end of the second overtime.
LHS finally broke through in the third overtime building a lead of 70-65 and later 76-70.
DeVondre Livingston led the Redskins with a season high 26 points. Villareal had 14 including 12 in overtime and three three pointers in OT. J.J. Lewis played his best game with 13 and B.J. Washington added a career high 11.
Great Bend's Jace Bowman kept Great Bend in the game and almost won it. He scored 28 and made eight three pointers.
Liberal is 4-11 overall and 1-3 in the WAC. The Skins host Guymon Tuesday night at about 7:45 in the Big House on Talkradio 1270 and kscbnews.net.