Three Bee Jays Make Perfect Game List
KSCB News - September 1, 2015 7:34 am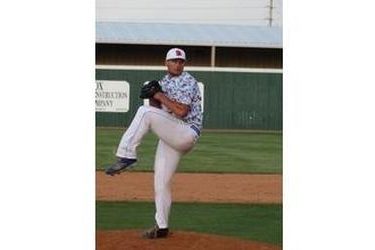 Three Liberal Bee Jays make the Perfect Game's top Jayhawk League prospects. Kuhnel, who also topped the Baseball America list, tops the Perfect Game list. Kuhnel, a 6'4" 260 pound right hander from UTA and Peoria, Arizona did not allow an earned run in 15 innings. He was clocked at 96 miles per hour at the NBC World Series. He had 20 strikeouts and two walks.
Brent Williams, the BJ catcher, is number four on the list. Williams hit .367 with seven homers and 46 RBI's with 11 doubles and a triple for 36-19 Liberal. The Colorado Springs native played two years at Seward and now plays at Oral Roberts.
First baseman Nick Brooks is number 11 on the list. The BJ bopper from Gonzaga and Auburn, Washington hit .319 with eight homers, 30 RBI's, and 11 doubles.
Austin Krajnak, the first baseman for Wellington, was second on the list while Hays outfielder Reggie Wilson was third.