Seward's Twin Towers Enjoy Career Night's in Dodge City
KSCB News - January 18, 2015 6:56 am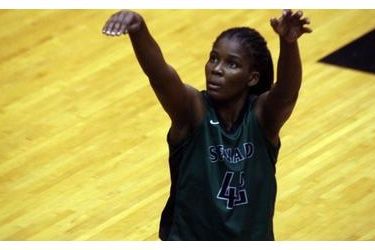 Behind dominating performances on the inside from freshmen forwards Tamara Seda and Axelle Bernard, the #8 Seward County Lady Saints breezed by Dodge City Saturday night in the Civic Center by a score of 76-59 to remain perfect on the season in Jayhawk West Conference play. Seda finished the game with a career high 28 points as well as 16 rebounds, while Bernard scored her career high of 16 and had 13 boards for the Lady Saints.
As they have seemingly all season, the Lady Saints made themselves quite comfortable in an opposing teams building early on, building an 18-2 lead on Dodge City to begin the contest. A 9-0 run by Dodge City made it a seven point contest, but back to back scored from Tamara Seda and Kyndal Davis stretched Seward's lead back to double digits at 22-11 with 12:08 left in the half. Dodge kept things close with a formidable offensive attack, but the Lady Saints used their size on the inside with Seda and Axelle Bernard to stay one step ahead of the Lady Conqs. A smooth post move by Bernard put Seward up 30-17 and four straight Seda points gave the Lady Saints a 35-21 lead with 5:14 left in the half. The pesky Conqs hung around however and what began as a 16 point lead to open the game was just a 42-32, ten point Lady Saint advantage at the break.
Bernard led the Lady Saints with a huge first half, equaling her career high with 14 points and also pulling down 8 first half rebounds. Seda also had a solid first 20 minutes of action, scoring 9 points on 4 of 7 shooting and hauling in 6 boards.
Seda scored the first five Seward points out of the halftime break to extend the Lady Saints lead to 47-43 and Bernard hit a jumper with 16:07 to go to push their lead to 17. The Lady Saints went the next 7:59 without a single bucket as Dodge City cut the Seward advantage to just six with 8:12 to go. A runner in the lane by Brooklyn Artis broke the Lady Saints drought and it jump started a 9-2 Seward run to put them comfortably back in front 67-54 with 5:15 left. The Lady Conqs cut it to eight once again, but that was as close as they would get as Seward closed Dodge City out 76-59 for their fifth straight victory.
Seda and Bernard were the story for the Lady Saints as each of the forwards notched a new career high in points with 28 and 16 respectively, while also getting it done on the boards, chalking up double-doubles with 16 rebounds for Seda and 13 for Bernard. Artis was the only Seward guard to reach double figures in scoring as she finished with 12 points.
#8 Seward improves to 17-1 overall on the season with the victory while keeping their Jayhawk West Conference record spotless at 5-0. Dodge City falls back to .500 on the season at 10-10 overall and continues a frustrating start to conference action as they drop to 1-5. The win for Seward marks its 17th straight over the Lady Conqs dating back to the 2006 campaign.
Next up the Lady Saints will get a struggling, but dangerous Garden City team in the Greenhouse on Wednesday. Seward and Garden will tip off at 6:00 with free tickets available courtesy of our buyout sponsor First National Bank, at any of their Liberal locations.
#8 SEWARD COUNTY/DODGE CITY BOX SCORE<http://www.sewardsaints.com/sports/wbkb/2014-15/boxscores/20150117_1yti.xml?view=boxscore>
Roy Allen