Seward Sweeps Pratt in Home Finale
KSCB News - April 19, 2014 6:42 am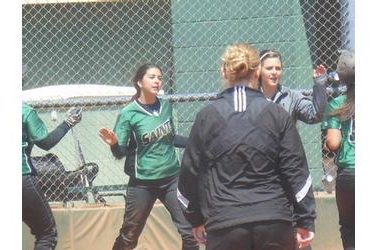 Seward's home softball season is already over. Seward swept Pratt on Sophomore Recognition Day 8-0 and 7-0 at Lady Saints Field. Seward finishes 19-3 at home.
In game one, Seward scored two in the first, three in the second, and three in the sixth. Katelyn Craker pitched the distance striking out nine and walking one. Felisha Vogelaar, Joe-Ann Rapoza, Tiffanie Bolanos, and Danielle Orr had two hits a piece. Orr drove home two runs.
In game two, the Lady Saints used a six run fourth inning to blow the game open. They added a sixth inning run. Brittany Hopkins pitched the distance allowing two hits. Marissa Chavez was 2-4 with a double and three RBI's. Vanessa Oakden was 3-3 while Pokey Ewell and Andrea Sitter added two hits a piece.
Seward is 41-11 and Pratt is 11-35. Seward plays at Colby Wednesday at 3.