Seward Coach Savors Barton Sweep
KSCB News - October 4, 2012 7:19 am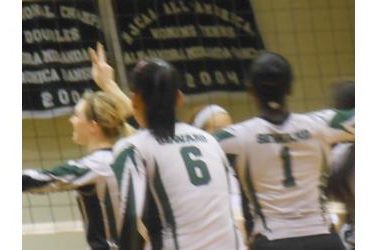 Seward's head coach didn't forget. One season after Seward defeated Barton and forced a decisive Region 6 championship game in Wichita, Bert Luallen remembers how Barton reacted to Seward's win and Barton's ultimate championship win. Luallen says Barton didn't shake hands with Seward players after they finally beat Barton and indicates Barton taunted Seward after winning the Region 6 crown. Luallen says he and his sophomores remember which makes a season sweep of Barton this season even sweeter.
The Saints took down Barton (25-22, 20-25, 25-16, 25-17) Wednesday night in the Green House. Seward is 12-14 overall and 7-1 in the Jayhawk West while the Cougars fall to 7-13 overall and 5-3 in the Jayhawk West. Hutch beat Colby 3-2 Wednesday so Seward remains one game behind the first place Blue Dragons in the Jayhawk West.
The Saints host Clarendon for Dig Pink Night Friday night at 6:30. Fans are invited to donate money to promote breast cancer awareness.