Seward Third After Day Two In Plano
Joe Denoyer - May 17, 2017 8:51 pm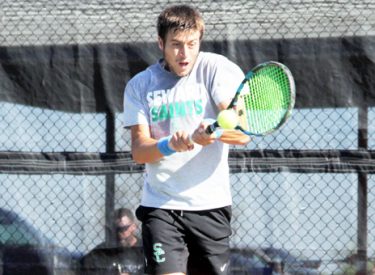 The Seward County Saints went 9-1 on day two of the NJCAA National Tournament in Plano, Texas on Tuesday, collecting a whopping 24.5 points to put themselves in 3rd place as the championship tournament nears its midway point.
Seward's only loss of the day came at #1 singles where Carlos Anez was upset by Sebastian Osiorio of Co-Lin 7-6 (12), 0-6, 6-4 in the second round of the tournament before Anez bounced back for a quick thumping of Barton's Marcel Miasato in the consolation quarters to pick up a half point for the Saints.
Duro Opacic continued his solid freshman campaign for the Saints at #2, blowing Breno Goncalves of Meridian away 6-1, 6-2 to move onto the quarters where he will take on Linus Holthey of Mesa on Wednesday.
Ondrej Nice played a clean match at #3 singles for Seward, blanking Andrew Carey of Marion Military 6-0, 6-0 to breeze to the quarterfinals. Nice will take on Matthias Rogel of Abraham Baldwin in a big match Wednesday with a trip to the final four on the line.
At #4 Przemek Zielinski held serve against Jacksonville's Oscar Ferrero, downing the Jag 6-1, 6-3 to make his way to the quarterfinals where it will be a Region VI Championship match rematch between Zielinski and Julian Aubry-Damon of Cowley Wednesday.
Claudio Quinones had arguably the Saints toughest singles match of the second round at #5 as he battled Seminole State's Andrew Parker. Quinones was up to the task though, winning the first 6-2 and taking the second 6-4 to earn his spot in the round of eight Wednesday.
A semifinalist a season ago at the tournament, Ngoni Makambwa had little trouble with Jones County's Luke Armstrong in his first match of the week, taking a 6-0, 6-1 decision to advance to the quarters to take on Thompson Tong of Collin Wednesday.
In doubles, second seeded Anez/Nice faced a stiff second round test at #1 as they took on 5th ranked New Mexico Military. The Broncos took a close first set 7-6 before Nice and Anez settled down for a 6-2 win in the second to send things to the third. In the decider, the Saints pulled through in a close one, winning a tiebreaker to take the match 2-1 and advance to the quarters where they will take on Laredo Wednesday afternoon.
Itching to get on the court Alex Mosehle and Gabriel Nery made their tournament debut at #2 doubles Tuesday, coasting to a 6-3, 6-1 win over Meridian to make it to the final eight.
Opacic and Zielinski took the court together at #3 for the Saints, battling through a tough first set against Jacksonville to win 6-4 before easily taking the second 6-1 to punch their ticket to Wednesday's quarterfinals where they will battle Mesa.
Abraham Baldwin and Tyler are tied for the tournament lead with 27 points while Seward checks in 3rd with 24.5, followed by Mesa with 24, ASA Miami with 23.5 and Jayhawk rival Cowley in 6th with 23.