Seventh No Heaven for Liberal
KSCB News - August 10, 2011 8:03 pm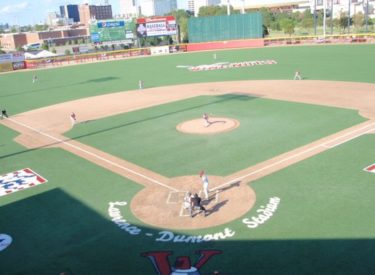 It's simplistic but true. When the Liberal Bee Jays take care of the baseball they win, when they don't they lose. Liberal had one error in three NBC wins and seven errors in the two losses including three in a 4-2 loss to Nevada Wednesday night at the NBC World Series at Lawrence-Dumont Stadium in Wichita.
The Bee Jays offense which scored 23 runs the first two games struggled for a third straight night scoring two unearned runs with only six hits.
Nevada (32-22) scored an unearned run in the third after a throwing error by the BJ third baseman. Liberal plated two in the top of the fourth thanks to an error by the Griffon third sacker. A Micah Green sac fly tied the game and a Dean Friedberg slicing double to right center gave the BJ's a 2-1 lead.
Nevada tied the game on a BJ wild pitch in the bottom of the fourth. Nevada plated two unearned runs in the fifth thanks in part to a ground ball through the wickets of the BJ second baseman.
Jared Moore pitched three and two-thirds allowing two runs but one earned run. Kasey Merck pitched two-thirds allowing two unearned runs before Robbie Ingram pitched two-thirds scoreless. Olsen worked two scoreless innings. Brent Harrison worked a perfect eighth.
The BJ's finish seventh with a 3-2 NBC record and a 33-18 overall record in a season which will be remembered for a rash of injuries causing an ever changing BJ lineup this summer. Liberal has finished in the top seven at the NBC four consecutive seasons and is 20-7 at the tournament during that span.