Saints Sweep Northeastern to Open Season
KSCB News - February 15, 2012 7:10 am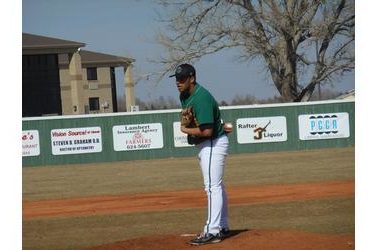 At Brent
Gould Field it was Seward's second season opener of the season as their
initial game was started and not complete so Tuesday gave them their
first tally on the win or loss column in a matchup against Northeastern.
The Saints took the opener of the twin bill 5-2 led by a 2 RBI triple
from Steve Polito and a 3 RBI game from Jake Barrios. Tyler Wiedenfeld
started on the hill for the Saints and threw his scheduled 4 innings,
allowing 3 hits and 2 runs to earn the win while TJ Looney came out of
the bullpen for 3 solid shutout innings of relief and allowed just 1 hit
to get the save. In the backend of the double dip, the Saints scored in
4 of their 6 offensive innings to win 4-2 as Gavin Glanz went 4 2/3 to
earn the win and was followed by southpaw Keegan Hucul who threw 2 1/3
perfect innings with 3 strikeouts to earn the save. Barrios had 2 hits
and scored 2 runs and Willy Gustin and Carlos Dorado each had 2 hits and
drove in a run.
The Saints play the Plainsmen Wednesday at noon on Brent Gould Field.