Saints Survive Pratt Scare
KSCB News - February 13, 2012 7:29 am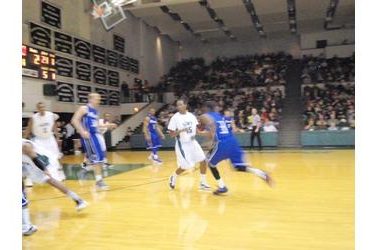 Seward head coach Bryan Zollinger talked with Pratt's coach Jesse Shaw after the game. The coach of the first place Saints reassured the coach of the last place Beavers that Pratt deserved to win. He reiterated that during the KSCB postgame. You can click on the audio icon to hear the interiview. The Saints rallied to beat Pratt 58-55 Saturday night in front of a big homecoming crowd in the Green House. Seward is in first place by two games in front of Barton and Hutchinson.
The Saints jumped out to a lead of 16-2 and 18-4. But the Beavers (10-14, 1-9) went on a 23-0 run. The Beavers led 33-24 at halftime. Pratt led most of the second half. Seward finally took a lead on a driving layup by Corieon Pearson to give Seward a 55-54 lead with 26 seconds left.
The #15 Saints shot only 32 percent but forced 21 Beaver turnovers.
The Saints got 14 from Deverell Biggs while Daveon Boardingham scored 13 points and grabbed seven rebounds and made the defensive play of the game during the closing minute when he slapped the ball off of Bryton Hobbs's leg. Hobbs otherwise gashed Seward for 22 points.
The Saints are 21-4 overall and 9-2 in the Jayhawk West.
They play at Cloud Wednesday night at 8 p.m. on B107.5 and kscbnews.net.
Sat. Feb. 11
Highland def Kansas City KS 88-82 OT*
Johnson County def Fort Scott 90-79*
Hesston (12-11) at (15-7) North Central MO 4:00
#7 Coffeyville def Cowley 76-66*
Garden City def #13 Barton 85-82 2OT*
Dodge City def Colby 69-66*
Hutchinson def Butler 66-64*
#15 Seward County def Pratt 58-55*
Independence def Labette 69-62*
Allen def Neosho County 70-61*