Saints Split Costs them First Place
KSCB News - April 1, 2013 7:15 am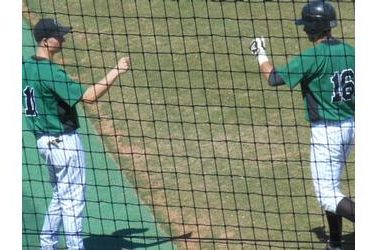 Seward won the series against Hutchinson this weekend at Brent Gould Field but they needed more. Dodge City won all four at Cloud and stands in first at 14-6 while the Saints are 13-7. Seward won 9-0 and lost 6-5 against the Blue Dragons Saturday.
In game one, Hayden Howard gave the Seward staff their third straight complete game in a 9-0 win. Howard (3-3) struck out five and walked one. Seward scored two in the first and seven in the fifth. Jacob Fuller was 3-4 with two RBI's while Devan Nelson was 3-4. Johnny Griffith was 2-3 with two RBI's. Bryson Allen was 2-4 with a double.
Seward led game two 2-0 until Hutch plated runs in the fourth and the fifth to tie it. Seward took the lead with a run in the fifth. Hutchinson's Gordon Guild, who was hitting .140 with an RBI lifted an opposite field grand slam over the right field wall to make it 6-3. Seward scored two in the seventh but couldn't score in the eighth or ninth. Bryson Allen was 3-4 with two triples and a double in the loss.
Seward is 19-20 overall and 13-7 in the Jayhawk West while Hutchinson is 9-17 overall and 5-11 in the Jayhawk West.
Seward plays at Clarendon Wednesday and plays at Pratt Saturday and Sunday at 1. The Pratt games will air on Talkradio 1270 and kscbnews.net.