Saints Salvage Split on Final Day in Colby
KSCB News - April 14, 2014 7:19 am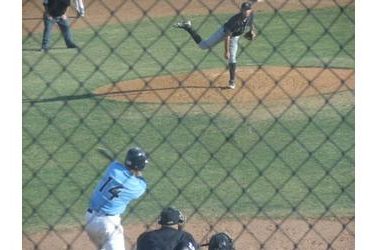 The Saints salvaged a split of a double header Saturday in Colby. The Trojans won game one 13-4 but Seward won game two 8-5 as Colby won three of four in the series.
In game one, Colby roughed up starter Keenan Hall with three in the first and five in the third. Seward scored three in the second. Colby added a run in the fifth and four in the sixth in the seven inning game.
In game two, Seward received a solid starting outing and a strong performance out of the bullpen in the win. Pete Macke pitched five innings allowing five runs but Adam Guay pitched four scoreless innings. Seward scored five in the third. The inning was opened up when Kevin Connolly's fly ball to right was misjudged driving home two runs. Reed Thompson singled home a run. Brandon Rix lined a two run homer over the centerfield fence for his second homer of the season. Colby came back with three in the third and two in the sixth to tie the game. Seward regained the lead with three in the seventh. Bryson Allen doubled home the lead run and Brent Williams sliced a towered two run homer to right center for his sixth of the season. That made it 8-5 SC.
The Saints are 25-20 and 13-11 after losing their first ever series in Colby. The Trojans are 24-20 and 15-13 in the Jayhawk West. Seward plays at Clarendon Wednesday and hosts Cloud Friday and Saturday at 1 at Brent Gould Field. The Friday and Saturday games ari on 1270 and kscbnews.net.