Saints Announce Hall of Fame Class
KSCB News - January 13, 2015 6:31 am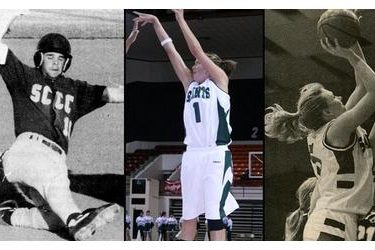 Three more former Seward County stars got their Hall of Fame calls on Saturday as former Women's Basketball players Tegan Cunningham and Jamie Talbert as well as Baseball player Tim Forkner will represent the Saints Athletics Hall of Fame Class of 2015.
Tegan Cunningham- Women's Basketball- 2006-2008
Tegan Cunningham is one of just two Lady Saints in school history to receive NJCAA All-American honors in both seasons at Seward County. She was a two time Jayhawk West Most Valuable Player award winner and was named the NJCAA National Player of the Week five times during her two seasons as a Lady Saint. She is the all-time leader in career points scored with 1,368 and the second leading rebounder in school history with 636. She led Seward County to a 59-11 record in her two seasons in Liberal including a 36-2 campaign in 2006-07 in which the Lady Saints won the Jayhawk West and Region VI Championships before finishing 3rd at the NJCAA National Tournament.
Jamie Talbert- Women's Basketball 1998-2000
Talbert became just the second 1st Team NJCAA All-American in school history in 2000. She is second leading scorer in school history with 1,274 points and ranks third all-time in rebounding with 620. Talbert made 62% of her shots from the field during her two year career, by far the highest shooting percentage in school history. As a freshman she was picked 2nd Team All-Conference and 2nd Team All-Region and was honored in the postseason with All-Region VI Tournament Team as well as NJCAA National Tournament All-Tournament Team. As a sophomore she was the Jayhawk West Most Valuable Player and was a 1st Team NJCAA All-American when she scored a school record 805 points throughout the season.
Tim Forkner- Baseball- 1991-1993
Forkner was the second All-American in the history of the Seward County baseball program and was the first under Galen McSpadden. As a freshman he won the NJCAA National Batting Championship with a .512 average and was named the Jayhawk West Freshman of the Year. As a sophomore he was the Jayhawk West Most Valuable Player and was a 1st Team NJCAA All-American. His .499 career batting average remains the best in school history, while his 169 hits and 81 walks rank second. He is in the top 10 in school history in six different major career categories.
Cunningham, Talbert, and Forkner represent the largest Hall of Fame Class since the opening class in 2012. The three will be officially enshrined in the Saints Athletics Hall of Fame at the Hall of Fame Banquet on Friday, April 17th in the Greenhouse.
Roy Allen