Rosels To Represent Liberal In Olney For Pancake Day 2017
Joe Denoyer - February 8, 2017 1:14 pm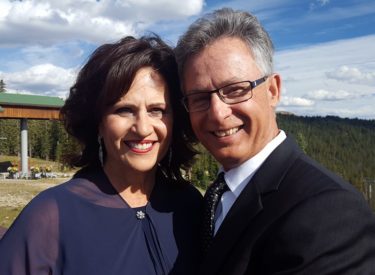 George and Connie Rosel, Liberal natives and former residents will be representing Liberal in Olney, England for the 2017 International Pancake Day festivities. While the Rosels are in Olney, their daughter Adrienne (Rosel) Bulinski will be in Liberal emceeing the Pancake Day Talent Show on Saturday and Sunday February 24 & 25 and will be honored as the Grand Marshal of the Pancake Day Parade on Tuesday February 28th.
George Rosel moved to Liberal, KS in 1962. His wife, Connie, moved to Liberal in 1971. They married in Liberal in 1975.
George and Connie Rosel raised their family of four children; Michelle, Eric, Adrienne & Mackenzie all in Liberal. Their children have graduated from college, married, and have careers and children of their own.
The Rosel family owned and operated an oil service company, Rosel Well Perforators, based in Liberal since 1962, and in later years George was President. George is a former president and member of the Liberal Rotary Club and served as Chairman of the Pancake Day Parade for many years. He served as a Boy Scout leader, and was an elected official to Unified School District.
He and his wife were members of Grace Lutheran Church. Along with managing the home and managing company books, Connie worked ten years throughout Liberal's school system before being elected to the Unified School District. She also served as a Youth Leader at her church and organized their youth to travel to the National Youth Gatherings every four years.
Their four children were very active in Liberal in many sports and activities. As a resident of Liberal, Kansas they participated in all Pancake Day festivities; the race, pancake eating contest, talent show and the Miss Liberal Scholarship Pageant. The youngest daughter, Adrienne is a former Miss Liberal, and went on to become Miss Kansas 2005. She represented Kansas in the Miss America Pageant in January of 2006. Adrienne will be returning to Liberal for the 2017 Pancake Day festivities as the Grand Marshal of the Pancake Day Parade and the Master of Ceremonies of the Pancake Day Talent Show. So, even though Adrienne's married name is Bulinski…we will have ROSEL'S on both sides of the pond participating in Pancake Day! After Leaving Olney, George & Connie will spend a couple of days with their youngest son and his wife who currently live in London.
In 2007, the Rosel's sold their company and George and Connie moved to Denver, Colorado to be near their three children and five grandchildren.