Redskins Take WAC Opener in Hays
Brock Kappelmann - September 17, 2016 2:00 am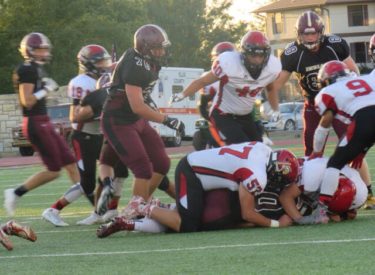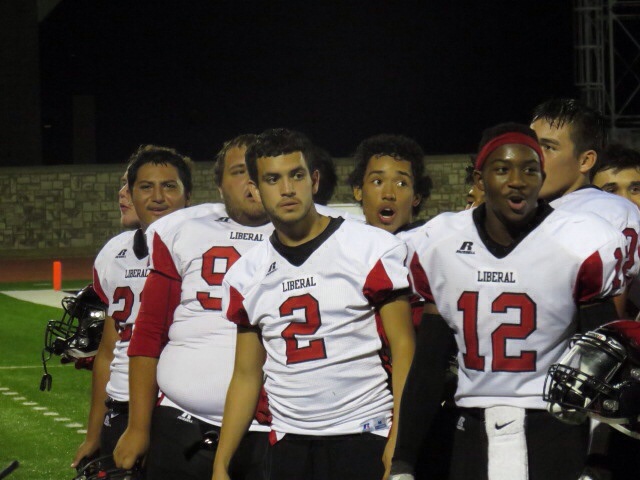 Liberal has a WAC win.  The 2016 Liberal Redskins wasted little time in showing two streaks the door.  A ten game WAC losing streak dating back to 2013 at Dodge City is over.  And LHS beat Hays for the first time since 2008 when Tom Schroeder roamed the Redskin sideline.
Liberal's defense stood tall again as the offense was ineffective for much of the night.  Liberal allowed 330 yards but forced three turnovers.  Liberal did not have a first down in the first half.  Hays scored first as Hunter Brown took in a five yard score at the 8:08 mark.  But freshman Syris Dunlap took the ensuing kickoff 93 yards up the middle of the field for a touchdown.  Victor Monarrez recovered a fumble in the second quarter and LHS made a stop on 4th and 5.  Liberal fumbled in their first play from scrimmage at their own 20.  Kohlton Meyers of Hays made them pay with a three yard score at the 10:32 mark of the third.  In a desperate situation, Liberal quarterback Jesse Alvarado's pass was intercepted by Collyn Kreutzer of Hays.  But Ty Johnson ripped the ball back to Liberal for a Hays turnover after an LHS interception.  Cesar Burciaga finished that drive with a six yard score.  The PAT by Burciaga gave Liberal the 14-13 lead with 3;08 to play in the third.  Hays marched back down the field behind Brown on many quarterback counters to drive deep in LHS territory.  But Monarrez recovered another fumble to give LHS the ball.  Burciaga willed his way through several HHS would be tacklers and then bolted for a 67 yard score to make it 21-13 after the PAT.   The sophomore ran for 103 yards.
LHS is 2-1 and Hays is 1-2 and 0-2 in the WAC.  The Redskins host Wichita North for homecoming Friday at 7 with Redskin Pre-game at 6 on 1270 and kscbnews.net.
Photo by Eric Smalldridge