Redskins Survive Curran's Offensive Onslaught
KSCB News - February 22, 2012 7:29 am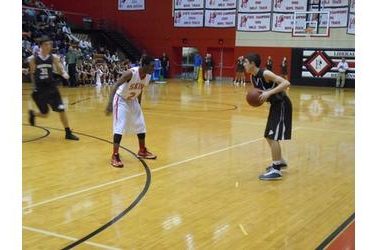 Liberal won their fifth straight game in maybe the most impressive fashion this season Tuesday night on Senior Night in the Big House. The Redskins took down Garden City 67-62 and played maybe their best three quarters of basketball this season. But Garden City's Jake Curran wasn't impressed. He poured in 34 points to keep his team in the game with defenders draped over him. But that still wasn't enough to slow down the suddenly surging Skins.
Garden came out smoking hot taking a 20-12 lead after one quarter. Liberal used a 16-4 second quarter advantage to lead 28-24 at halftime. LHS led 46-34 after three quarters and built a 53-39 lead in the fourth quarter. Curran led the Buffaloes back to within five at 57-52 before a Britton Abbott layup with 1:30 to go restored some order for the Angry Red.
DeVondre Livingston scored 17 while Osvaldo Villareal added 14 with including three trifectas. The seniors helped insure that Liberal will play a first round home game next Wednesday night. Britton Abbott scored 10.
LHS is 8-11 overall and 4-3 in the WAC while Garden finishes the regular season 9-11 overall and 6-2 in the WAC. The Redskins defeat the Buffaloes at home for a fifth consecutive season.
LHS plays WAC leading Dodge City (10-9, 7-1) at the Dodge City Fieldhouse Friday night at about 7:45 on Talkradio 1270 and kscbnews.net.
The Redskins will be featured Thursday night during the Rowdy Crowd Show at 5:30 on Talkradio 1270 and kscbnews.net.