Redskins Claim Second at WAC Meet
KSCB News - October 12, 2012 6:49 am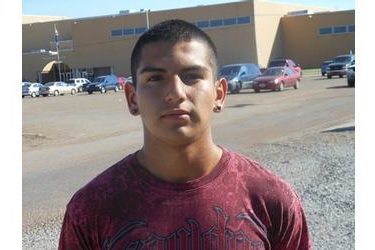 The Redskin harriers competed in the Western Athletic Conference cross country meet Thursday. This year's meet was hosted by Garden City High School and was run at Buffalo Dunes Golf Course.
The Redskin girls ran the 4K course for the first varsity race of the day. Destyni Lucero led the way for the Redskin girls finishing the course in 16:46, for a 4th place finish and a spot on the ALL-WAC team. Mercy Perez was the next Redskin, crossing the line in 17:18 good enough for 6th place and All-WAC honorable mention honors. Janette Borunda was the 20th runner to finish the race with a time of 18:38. Vanny Diazdeleon had a time of 18:53 in 25th place. Lesli Mendoza was Liberal's 5th runner, placing 29th place, and running the course in 19:28. Kayla Tran and Adelina Parral came in 32nd and 33rd place with times of 19:58 and 20:54. The final WAC standings for the girls were Garden City first place 19 points, Great Bend 67 points, Dodge City 81 points, Liberal 84 points, and Hays had 113 points.
In the boys race, Angel Viveros led the Redskins conquering the 5K course in 17:15, for a 2nd place finish and a spot on the All-WAC team. Daniel Frazier joined Viveros on the All-WAC team with a 5th place finish and a time of 17:25. Sammy Obando earned All-WAC honorable mention by placing 8th place in 17:54. Luis Medina had a time of 18:51 finishing in 22nd place. Obed Quintana ran through a high ankle sprain, gutting it out to the finish to place 24th place, in a time of 18:53. Marco Espinoza made great work out of his first varsity race of the year finishing in 29th place in 19:12, while Erving Altamarino had a time of 19:23, and was the 31st runner to cross the finish. The Redskins were also without Emilio Tovilla who sat out of the race to help nurse an injury, so he can be ready for Regionals. The final WAC team standings had a lot of resemblance as last years, as no teams moved from last year. Dodge City got the repeat as WAC champs with 34 points, Liberal 2nd place with 61 , 3rd was Garden City with 67 points, Great Bend 91 points, and Hays had 105 points.
The Redskin runners will compete in their Regional Championship Saturday the 20th in Great Bend. Teams competing will be Great Bend, Hays, Liberal, Maize South, Newton, Salina-Central, Salina-South, and Valley Center. The top three teams will advance to the state meet, along with the top 10 individuals.