Record Breaking Redskin QB Second String at Hutch
KSCB News - October 13, 2011 1:31 pm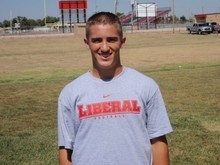 Former Liberal quarterback Slader McVey is climbing the depth chart at Hutchinson. The freshman is second string on the Hutch depth chart behind Elliott Alford who has thrown for 19 touchdowns and one interception and has completed 68 percent of his passes.
McVey has 11 carries for 38 yards and is 6-9 passing for 91 yards. Hutch is 5-1 and ranked ninth under LHS graduate Rion Rhoades. KSCB caught up with Slader at the Great Bend football game Friday.
McVey amassed 1,660 passing yards at Liberal in 2010 which is second best in LHS history. In 2009, he had 1,663 yards. McVey had 3,602 career passing yards which is the school record.