Pair of Lady Saints Sign at Pair of OSU's
Brock Kappelmann - November 9, 2016 4:45 pm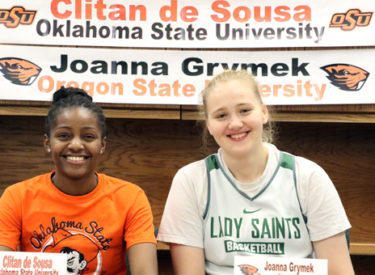 Seward County Lady Saints Joanna Grymek and Clitan de Sousa each signed with OSU on Wednesday afternoon in the All-American Room, Grymek heading to the West Coast and Oregon State University while de Sousa stays in the Midwest to play for former Seward Coach Jim Littell and the Oklahoma State Cowgirls.
Grymek had a dominating freshman season for the Lady Saints, leading her to 1st Team All-Jayhawk and 2nd Team All-Region VI honors. Grymek led the Lady Saints in scoring in 2015-2016, dumping in 13.2 points per night on 60% shooting from the floor which ranked 2nd in the Jayhawk Conference and in the top 10 nationally. Her 6.6 rebounds and 2.2 blocked shots per contest were both second most on the Seward roster. She posted six double-doubles on the year, her most impressive with a 22 point and career high 16 rebound effort against Cloud County to earn her Jayhawk Conference Player of the Week honors for the third time on the year. She scored in double figures 23 times, topping the 20 point mark seven times including a career best 28 point performance in a win over Fort Carson. So far through two games this season, the 6'8 center is averaging 20.5 points and 6.0 rebounds per game while shooting a cool 77% from the field.
Grymek will head to Corvallis where the Beavers won a program record 32 games last season, clinching both the Pac-12 regular season and tournament titles while marching to the NCAA Tournament Final Four for the first time in program history.
As a freshman, de Sousa was a key cog in the Lady Saints runner-up finishes in both the Jayhawk Conference and the Region VI Tournament in 2015-2016. She played in all 33 games as a rookie, drawing 32 starts, averaging 8.0 points and 5.4 rebounds per game on the year while shooting 50% from the field. De Sousa scored in double figures 11 times, putting up matching career high 17 point efforts against Garden City and Cloud County. She had three double figure rebounding games, grabbing 11 against Cowley and 10 each against Independence and Tabor. For her efforts, de Sousa was invited to, and participated in, NJCAA All-Star Weekend this summer in Niceville, Florida. Through two games this year she is averaging 19 points and 6 rebounds per game, shooting 65% from the field.
De Sousa will join Saints legend Jim Littell in Stillwater to play for the Cowgirls. Oklahoma State won 21 games a season ago, earning a trip to the NCAA Tournament once again where they competed coincidentally in the Corvallis Regional.
Grymek, de Sousa, and the rest of the Lady Saints will open Jayhawk Conference play on Saturday when they take on longtime rivals Hutchinson in the Greenhouse in a 6:00 tip.
Roy Allen