Official Report On Tuesdays Grass Fire In Texas County
KSCB News - March 25, 2011 8:25 am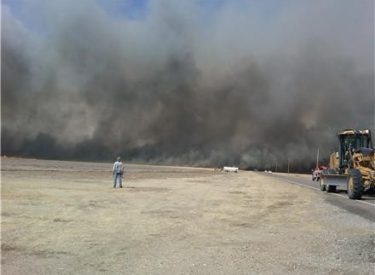 Goodwell Fire Department received a page for a grass fire on Mile 22 and Road O around 11 o'clock in the morning. Goodwell realized this fire was going to be bigger than their resources could handle and requested mutual aid from Guymon Fire Department. First arriving units found a very large grass fire moving at a high rate of speed fueled by extremely dry conditions and wind speeds gusting up to 50 mph. Guymon units requested help from other departments in the County.
In spite of the work of fire departments, the fire raged on jumping the grader lines and containment strategies. Goodwell turned command over to Guymon because Guymon was at a better vantage point. From its point of origin, the fire traveled on an East – Northeast track towards State Highway 136 N, putting structures and homes at risk. Valiant efforts by those on the front lines saved many homes and potentially lives, however, two homes and a couple of out buildings were lost. The fire continued two miles past State Highway 136 north before it was under control and finally contained with an unexpected resource, irrigated wheat fields. Preliminary reports estimate about 7,700 acres being burned. "This was the fastest moving grass fire I have ever seen" stated Goodwell Chief Bickford, going on to say "We are very lucky we got it stopped where we did"
The home that was lost was a total loss and the person lost everything he owns in this fire. The Panhandle has always been good at helping out people in time of need and this is no different. There is a fund being set up at City National Bank in Guymon to help out as much as we can.
The Guymon Fire Department was assisted by all Texas County Fire Departments, Seward County, Beaver County, Hansford County, all Districts of Texas County, Texas County Sheriff's Office, Seaboard, RG Morgan, numerous farmers and ranchers, OHP, Guymon PD, Red Cross, Jimmy Draper, Texas County EM Harold Tyson, Guymon Firefighter's wives, City employees and too many more to list. "I would like to personally thank everyone who helped and are continuing to help out with this fire, I may not have seen you out there, but your help was greatly appreciated" stated Guymon Chief Clark Purdy.