"Musical Serenade to Mothers" concert set for May 8
KSCB News - May 4, 2016 8:12 am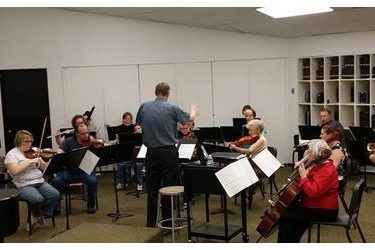 The Southwest Symphony Society orchestra will present its concert "Musical Serenade to Mothers" at 2 p.m. Sunday, May 8, at the Showcase Theater at Seward County Community College, under the direction of Conductor Mark Compaan. The talented group of local musicians will play music by Beethoven, Bach and Brahms. Admission is a free-will donation and refreshments will be served.
"I am sorry to say that this will be the last concert with Mark Compaan as the director," said Kay Burtzloff, president of the Southwest Symphony Society Board. "He's done a great job with the orchestra in the last three years and he will really be missed." Compaan has accepted a teaching position in South Korea.
"I wanted to take the orchestra back to its classical roots in my last concert, which is why we are featuring the music of Beethoven, Bach and Brahms. I think their music really allows our local musicians to shine," Compaan said.
Burtzloff said, "Since it is Mother's Day, we plan to have special treats and a little gift for each mother that attends the concert. We think taking Mom out to lunch and a concert is a perfect way to treat her on Sunday."
The String Orchestra will start the concert with Concerto in D Minor Movement 1 by JS Bach. The full Orchestra will play "Academic Festival Overture" and "Hungarian Dance No. 5 by Johannes Brahms; "Symphony No. 7, "Symphony No. 8 F Major op. 3," and Sonatina in G" by Ludwing van Beethoven, and :Sleepers Wake," and Brandenbur Sifonia" by JS Bach.
Ensemble members include violins–Chris Seeman, Blinda Massa, Megan Sims, Leah Sims; viola- Nancy Allen; cello- Troy Skinner; oboe-Alisa Henderson; flute- Andre Jones, Jerilee Rediger; clarinet- Shelly Rowson, Kim Slasor; bassoon-Lydia Augustine; baritone saxophone-Andrew Johnson; trumpet-Jim Seeman; baritone-Elizabeth Denoyer; percussion-Grant Mathews; and percussion/piano-Donna Apsley.
The Southwest Symphony Society is a Liberal non-profit organization dedicated to promoting classical and contemporary music in the community utilizing the talents of local and professional musicians. For more information, contact Kay Burtzloff at 620-629-0203.