Liberal Sweeps Hays to Win 12th Straight
KSCB News - May 11, 2016 7:26 am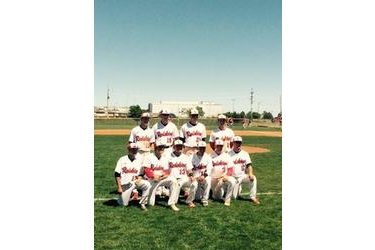 Liberal's baseball Redskins have won 12 in a row after sweeping Hays 16-1 and 12-11 on Senior Day Tuesday in Liberal. The Redskins won two games and bunched in between was a chance to honor 10 seniors who have won 55 games in four years of LHS baseball.
In game one, Cole Evans and the Redskins dominated Hays. Evans had eight strikeouts in the first three innings. LHS scored two in the first when Tim Fitzgerald doubled and Jared Hasik doubled him home. An error allowed the second run to score. LHS scored 12 in the third as 17 hitters came to the plate. LHS had six hits including a two RBI single from Alex Carrillo, and RBI double from Stevie Lira, and RBI single from Angel Archuleta, and another RBI single from Lira. Hays walked six in the inning and had three errors. The Redskins added two more in the fourth when Hasik and Carrillo singled home runs. Fitzgerald was 3-4 while Sylman Pando, Hasik, Carrillo, Lira, and Jacob McCarter had two hits a piece.
In game two, Hays took leads of 6-3 and 10-6 before the Redskins rallied to win. The Indians scored one in the first before the Redskins took a 2-1 lead in the bottom of the inning when Kaiden Long singled home a run and another run scored on a Hays error. The Indians took a 5-2 lead when Jared Haynes hit a homer to left. Long's RBI single in the third cut the Hays lead to 5-3. The scored another in the fourth to lead 6-3. LHS tied it in the bottom of the fourth with three runs with two outs. McCarter singled and Fitzgerald tripled him home. An error allowed Fitzgerald to score. Hasik doubled home a run. Hays took a 10-6 lead in the fifth which included a Braydon Delzeit homer. But the Skins responded with six in the fifth. Long doubled to lead off the inning. Archuleta double him home and McCarter double to score another. Fitzgerald's sac fly made it 10-9. Pando's RBI single tied the score. Hasik's RBI single gave the Redskins the lead and Long's RBI single made it 12-10. Three runs came with two outs. Hays scored one in the seventh but Hasik struck out Hays best hitter Conner Rule to end the game. Hasik earned his second save and Alex Yanez got the win pitching two innings in relief. Long was 4-4 while Fitzgerald, Pando, Hasik, and McCarter had two hits a piece. Hays out-hit LHS 15-14.
Liberal is 16-4 and finishes 6-2 and second behind 7-1 Great Bend in the WAC. Hays is 11-7 and 2-4 in the WAC. Liberal still has a chance of hosting regionals with the wins. Regionals will be next week and will air on 1270 and kscbnews.net.