Liberal Robs Dodge City
KSCB News - June 6, 2014 7:15 am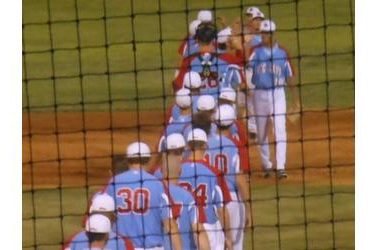 Liberal left fielder Alec Isaac reached over the left field wall and caught what would have been a home run in Liberal's 7-4 win over the Dodge City A's Thursday night at Brent Gould Field. It was a memorable way to begin the Jayhawk League schedule.
The Bee Jays built a 4-0 lead in this game . They scored twice in the second thanks to RBI singles from Justin McCarty and Kyle Lieser. Isaac double off the wall in left in the fourth to give the BJ's a 4-0 lead. Two of those runs were unearned due to one DC error in the second and one in the fourth. The A's tied the game with four in the fifth to chase starter Austin King. If not for Alec's catch, it would have been worse. The Bee Jays took the lead right back in the sixth when Bryson Allen raced home after Dodge induced a run down between first and second on a rundown. Liberal scored two unearned runs in the eighth. Mike Rampone walked with the bases loaded and Brady Cox scored on a wild pitch.
The BJ bullpen was flawless. Dustin Luna pitched 2.1 scoreless innings before Ray Ashford and Tyler Wiedenfeld pitched a scoreless eighth and ninth.
Liberal is 5-0 and 1-0 in the Jayhawk and the A's are 1-2 and 0-2 in the Jayhawk. Liberal begins a three game series at Derby Friday night at 7 on 1270 and kscbnews.net.