Liberal Firefighters Respond To Super 8 Hotel Fire
Joe Denoyer - September 27, 2016 8:11 am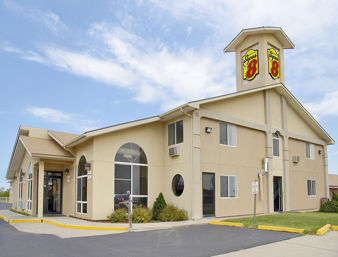 At 3:44 pm Monday Liberal firefighters were called to 747 E. Pancake Blvd. for a reported fire in the laundry room of the Super 8 Motel.
First arriving units at 3:49 pm encountered heavy smoke in the hallways and began evacuating the building.  Firefighters made entry and located a fire burning in the boiler room.  The fire was quickly extinguished and smoldering material was removed to the outside for further extinguishment efforts.  A complete search of the motel was made to ensure that no occupants remained unaccounted for and firefighters began ventilation efforts to remove the remaining smoke from the hallways and rooms of the motel.  The fire was declared under control in approximately 30 minutes.
The fire was first detected by the alarm system and was confirmed by an employee as the fire department was notified.  The fire itself was contained to the boiler room however smoke filled most of the structure.  Investigation determined the cause to be combustible materials placed too close to the burners of the boiler.  Also responding and assisting at the scene were the Liberal Police Department, Seward County EMS, Black Hills Energy & Southern Pioneer Electric.  The Liberal Fire Department responded with a total of 14 personnel and two engines and a ladder truck.  All fire units were clear of the scene at 5:29 pm.