Liberal Firefighters Battle Residential Fire
KSCB News - May 14, 2016 4:45 pm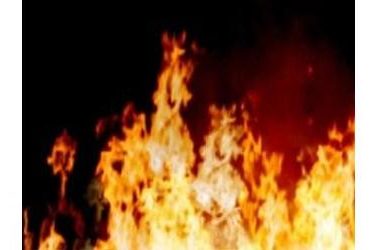 At 6:48 pm Friday Liberal firefighters were called to 1211 Mission Blvd. for a reported residential structure fire. The reporting party advised there were no occupants and he believed the fire to be located in the basement.
First arriving units at 6:52 pm found a single family dwelling with heavy smoke showing from the eaves and an open rear door. Initial size up and attempted entry through the front door revealed that the entire living room floor to be spongy and sagging into the basement. Fire crews were forced to make entry through a rear door to access the stairwell and simultaneously through a below grade fire escape window directly into an uninvolved room of the basement. From these vantage points they were able to get water indirectly into the fire area and darken it down via steam conversion. At this time additional ventilation points were opened and crews were able to advance cautiously to complete the extinguishment of the fire. The fire was declared under control at 7:35 pm. Firefighters were faced with multiple challenges at this incident. The first being limited access due to a compromised floor structure with an unchecked fire burning below it for an undetermined amount of time. The second was the fact that there were no direct openings from the exterior to the fire room to allow for a "knockdown" of the fire from the outside. And additionally, high winds from the North required control of the doors and windows at the front of the residence to prevent rapid wind-driven fire spread through the structure.
The residence was unoccupied at the time of the fire and no injuries were reported to either occupants or responders. The residence suffered heavy fire damage to most of the basement area, the stairwell and kitchen area on the ground floor. Heavy fire damage also occurred as the fire spread into floor joists between the basement and ground floor. The rest of the structure suffered extensive heat and smoke damage. Due to the instability of the floor, investigative efforts were hampered. The area of fire origin has been determined in the basement. The investigation will continue in conjunction with insurance investigators as the safety of the structure can be ensured. Also responding and assisting at the scene were the Liberal Police Department, Building Department, Water Department, Seward County EMS, American Red Cross, Black Hills Energy & Southern Pioneer Electric. T he Liberal Fire Department responded with a total of 18 personnel and two engines. All fire units were clear of the scene and returned to service at 9:09 pm.