Lady Saints Sweep Garden City
Brock Kappelmann - September 15, 2016 6:29 am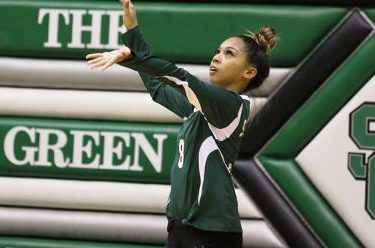 The Seward County Lady Saints won their fourth straight match Wednesday in a 3-0 rout of Garden City in front of a packed and enthusiastic Greenhouse crowd.  Despite a slow start, the Lady Saints came back to take the first 25-21 before blowing the Busters off the floor 25-10 in the second and polishing off the win with a 25-16 victory in the third to improve to 10-3 overall and 4-1 in Jayhawk West Conference play.
It was a less than ideal start for the Lady Saints Wednesday as they fell behind 4-0 right off the bat against a struggling Garden City bunch.  After a sideout on a kill from Kaysie Paxton, Seward got things going with Jazlyn Smith at the service line as the sparkplug freshman rolled off three aces in a row to knot the score before two straight blocks from Belissa Guidotti put the Lady Saints up by two 6-4. Just when it looked like things were turned around for the gals in green, the Lady Saints went cold again.  The Busters took advantage by retaking the lead and stretching their lead all the way to 14-9 before a Seward timeout was taken to try to halt the Garden City momentum.  After an inspired discussion from Coach Thais Baziquetto-Allen, the Lady Saints straightened things up, tying the game at 18 before using a 4-0 run to push ahead 22-18.  Garden made one last push, getting back to within one at 22-21, but it was all Seward from there as the Lady Saints got kills from Mariana Nascimento, Kaysie Paxton, and Amanda Pereira to close out the set as Seward took it 25-21 to take a 1-0 lead in the match.
There was far less drama for either side in the second as the Lady Saints jumped out to a 10-4 lead to get things going and padded their cushion to double digits on a kill from Guidotti and another ace from Smith to make it 18-8.  Seward never let up, getting a pair of kills from Maritza Mesa late to finish off an impressive final line of 25-10 to go in front 2-0 over Garden.
Seward struggled with the pass early in the third and found themselves ahead by just two at 10-8 after back to back reception errors allowed Garden to crawl to within striking distance.  A kill from Paulina Zach on the sophomore's poster night got the Lady Saints pointed back in the right direction and they continued to push forward, eventually cresting their lead at 15-9 before a Buster timeout.  A solo block from Nacimento followed by a kill from the freshman in the middle moments later made it 18-11 and the Lady Saints never looked back, eventually securing match point on a Garden City ball handling error to take the set 25-16 and finish off the match 3-0.
It was a blue collar win for Seward and the stat sheet showed it with very vanilla numbers at nights end.  Paxton was the only Lady Saint to crack double digits in kills as the finished off 10 while Mesa and Nascimento each had five.  Smith's serve was a weapon for Seward as the freshman reeled off a career best six aces, the most of any Lady Saint in a match this season while Kimberly Diaz took advantage of her first start of the season with a team high 14 digs.
Seward earns their 10th win of the season, improving to 10-3 overall on the season and upping their Jayhawk West mark to 4-1, good for second place in the league standings at nights end. Garden City's struggles continue as the Busters fall to 3-11 overall and drop their fifth straight Jayhawk West match to drop to 1-5.
The Lady Saints busy schedule will continue as they travel to Scottsbluff, Nebraska on Thursday to take part in the Wyo-Braska Classic over the weekend. Seward will see a talented pool of teams in the tournament including #1 Western Nebraska, 2015 National Semifinalist Northwest, 9-3 Laramie County, and Sheridan College.