Lady Saints Sit Second After Day One of Region 6
KSCB News - April 24, 2016 11:05 am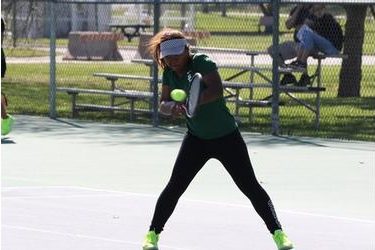 Going into Championship Sunday at the Region VI Tournament, the Seward County Lady Saints are just one point back of the arch rival Cowley Tigers as Seward sits with eight points after day one of action at Blue Bonnet Park in Liberal.
In the tournament's top singles bracket, the Lady Saints sent 3rd seeded Mialiniaina Rakotondrazafy to the court in their only head to head matchup with Cowley on Saturday. The Tigers Sarah Frendo prevailed against Rakotondrazafy though, winning a 6-4, 6-4 decision to send Rakotondrazafy to the third place match where she will take on Hesston's Brooke Hershberger tomorrow with a half point on the line.
In #2 singles it was top seeded Thalita Rodrigues hitting the court for Seward. Rodrigues made short work of her Saturday opponent, downing Barton's Jualia Seabra 6-1, 6-3 to get Seward on the board with their first point of the weekend. Rodrigues advances to Sunday's championship match where she will take on Cowley's Eva Forneiron at 9:00 AM.
Maminiaina Rakotondrazafy represented Seward at #3 singles as the #2 seed. Rakotondrazafy took the first set 6-3 against Barton's Idah Longwe before cruising in the second 6-2 to seal the win. Rakotondrazafy will look for an upset in the championship match Sunday when she takes on top seeded Sara Petric of Cowley.
At the #4 spot, the Lady Saints looked to 2nd seeded Yennifer Delgado to get them a point. That the freshman did, making short work of Barton's Karli Beck, downing her 6-1, 6-0 to advance to the championship match where she will take on Andjela Rajovic of Cowley in the 10:30 AM wave.
Nthabi Mogopodi drew the #2 seed for Seward in #5 singles and held seed against Barton's Baylee Reade, winning 6-0, 6-2 to move onto the title match against Cowley's Bruna Chaves Sunday morning.
Tadi Mrewa showed why she was the top seeded player in the #6 draw, blasting Becca Delp 6-0, 6-0 in a matter of just 28 minutes to earn a point for Seward and breeze to the Championship match where she will take on Cowley's Logyn Williams.
The most heated doubles battle of day one came at #1 where Seward's Rakotondrazafy combo took on Barton's Daniela Sanz and Idah Longwe. Rakotondrazafy/Rakotondrazafy came in seeded 2nd and had some tense moments before dispatching of the Cougar duo 6-3, 6-4. They will now move to the championship match to battle Sarah Frendo and Eva Forneiron of Cowley at 12:00.
At #2 doubles, the Lady Saints sent the top seeded dynamic duo of Rodrigues/Mogopodi to the mix. The pair had no trouble with their opponents from Hesston, winning 6-0, 6-0 to hold seed and take on Cowley in the finals Sunday who also won their Saturday match 6-0, 6-0 in the 2/3 matchup.
Seward earned another 6-0, 6-0 win at #3 doubles as Mrewa and Madison Hoelting teamed up to blast Hesston in a swift 35 minute match. The duo will now play for the title Sunday against Cowley's Stormy Tipton and Bruna Chaves.
Seward wins eight of nine day one matches to check in in second place with eight points at days end. The Lady Saints trail Cowley by one point and have a comfortable seven point lead on Barton.
The Lady Saints will look for their first ever Region VI Championship Sunday with battles against the Tigers at eight of nine spots in the lineup.
COMPLETE REGION VI TOURNAMENT RESULTS<http://www.sewardsaints.com/sports/wten/2015-16/releases/20160418njekxp>