Lady Saints Lose Heartbreaker, Finish 11th in Nation
Joe Denoyer - November 19, 2016 3:07 pm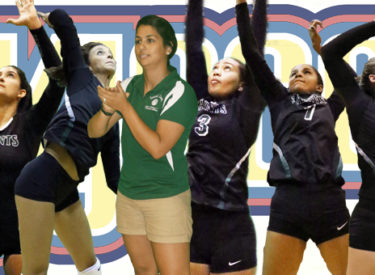 The Seward County Lady Saints saw their 2016 season come to an end Friday night in Casper, Wyoming as they lost a 3-2 heartbreaker to #20 Tyler in the consolation bracket semifinal to finish the season 11th in their first NJCAA National Tournament appearance in 13 years.
The Lady Saints got off to a dreadful start in the first against the Apaches as Tyler came at them at all angels, smashing seven kills in the first 12 points of the match to take an early 9-3 lead. Seward remained down six at 12-6 and 15-9 and still couldn't make up any ground as they went deeper into the set with Tyler in front 19-13. The Lady Saints finally cut into the lead later in the set as they trimmed the Apache advantage to just three at 21-18, but couldn't inch any closer as Tyler finished off the first with a big kill to seal the set 25-20. Tyler finished the first with 19 kills without a single error on 34 swings to hit .559 while Seward's .361 hitting mark in the set looked pedestrian next to the Apaches big numbers.
The second started eerily similar to the first for Seward, which wasn't a good thing as they found themselves down 7-2 without earning a single point nine points into the set. A 4-2 run for the Lady Saints cut the Tyler lead to 9-6 and Seward drew back to within two at 10-8 moments later. Seward tied the score midway through on back to back kills from Maritza Mesa and Amanda Pereira, but a quick 5-0 run for the Apaches put them comfortably in front once again at 17-12. Seward never recovered from the burst as Tyler closed them out 25-19 to take a commanding 2-0 lead in the match.
Finally the Lady Saints got off to a respectable start in the third, but still found themselves just tied 18 points in at 9-9. A Kaysie Paxton kill pushed Seward in front and the Lady Saints went on a 3-0 run to take a 12-9 lead. The momentum continued on the side of the green and black as the Lady Saints pushed their lead all the way to 17-10 to wrap up an 8-1 run. The Apaches never threatened again in the third as Seward dominated play before finishing off a 25-14 win to remain alive, but still down 2-1.
After falling behind 7-4 to begin the fourth, Seward answered with a 10-1 run, highlighted by three straight kills from Mariana Nascimento midway through to take another big lead at 14-8. A Seward service error killed the rally and Tyler used it to go on a 4-1 run of their own to slice the Lady Saints lead in half to 15-12. A kill from Paxton and an ace from Giovanna Kuntze got Seward back on track and just like that they were back up by five 18-13. A big block later on from Nascimento and Erica Ferreira put the Lady Saints up by six and that was the margin that they went on to win by in the fourth, 25-19 to even up the match at two and send things to a fifth set. Seward had 18 kills without a single error in the fourth, led by seven big kills from Nascimento in the middle.
In the deciding fifth set, Seward got off to their best start of the night, jumping in front 6-3 on back to back kills from Ferreira and Nascimento early on. However, a sideout for Tyler and a rash of Seward errors quickly turned a three point Lady Saint lead into a two point lead for the Apaches at 8-6 after a 5-0 run. The teams went back and forth from there and Seward had numerous chances to finish long rallies, but couldn't and in the end, the Apache attack was just too much as the Lady Saints fell 15-12 to drop the match 3-2.
The final numbers were good for the Lady Saints as they hit .353 as a team and got double digit kills from four different players. Nascimento banged home a career 17 kills for Seward while Mesa had 15 in her final game as a Lady Saint and Paxton and Ferreira each had 12. Pereira dished out 34 assists and had seven kills of her own in her final game in green and white.
Seward finishes a magical season 27-11, to post their most wins since 2008 and their best winning percentage since 2002. The Lady Saints end the NJCAA National Tournament in 11th place. Tyler improves to 20-15 on the year and will play Mineral Area for 9th place on Saturday morning.