Lady Saints Dominate Dodge City
KSCB News - February 23, 2012 6:33 am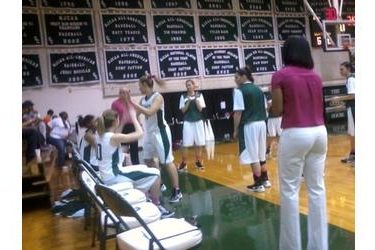 When Lucas McDonald was an assistant under Jim Turgeon at Dodge City from 2001-2004, he helped build a contender. A team went from the doldrums of the Jayhawk West to the Region 6 championship game in 2004 before losing to Seward. Now as a head coach McDonald has a similar challenge. The Lady Conqs have just three conference wins the past five seasons. Wednesday night in the Green House, Seward demonstrated how far Dodge City has to go in an 84-35 Seward win.
DCCC was competitive early trailing just 21-16 before the Lady Saints ripped off a 21-2 run to lead 42-18 at halftime. Seward's press helped force 35 Dodge City turnovers. The Lady Conqs shot 29 percent while Seward made 45 percent of their shots and were 14-35 from three point range.
Ricquia Jones scored a career high 20 with six steals and only one turnover. Jones was 4-8 from three point range. Kelsey Blair scored 13 while Kayla Thomas added 12 and Ashlynn Knoll dropped in 10. Dodge City's Je'nae Strong scored 13 points and grabbed 10 rebounds.
Seward wins their 12th straight against Dodge City and is 21-5 overall and 10-3 in the Jayhawk West. Dodge City is 8-20 and 0-14 in the Jayhawk West.
Seward plays at Garden City Saturday night at 5:30 on B107.5 and kscbnews.net.
Wed. Feb. 22
Coffeyville def Kansas City KS 84-59*
D2#1 Johnson Co def #15 Independence 46-37*
Neosho County def Fort Scott 55-46*
Labette def Allen 71-65*
Cloud County def Garden City 62-57*
Butler def Pratt 77-67*
D2#6 Highland def Cowley 65-63*
#19 Seward County def Dodge City 84-35*
#2 Hutchinson def Colby 85-60*