Lady Saints Continue Pratt Streak
KSCB News - February 13, 2012 7:20 am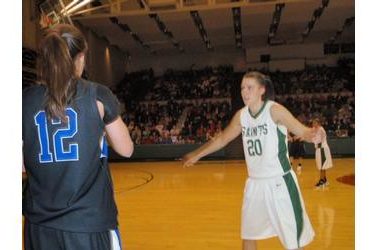 The Seward Lady Saints continue their dominance of Pratt with a 70-57 win Saturday night in front of a big homecoming crowd in the Green House. Seward won their 43rd consecutive game over Pratt.
The Lady Saints were a little bit better offensively in the win shooting 38 percent. Their defense was outstanding forcing 34 Pratt turnovers. Seward maded 17-19 free throws to hold off the eighth place Lady Beavers.
The #11 Lady Saints led 33-26 at halftime and led the whole second half although the final result was in question until the final several minutes.
Anete Kirsteine continues to be Seward's most consistent offensive player with 17 points. Ricquia Jones scored 15. Ashlynn Knoll played in the game and scored two points. She had surgery on her broken nose Friday and played through pain.
Seward is 20-4 overall and 9-2 in the Jayhawk West while Pratt falls to 12-12 and 2-8 in the Jayhawk West.
Seward plays at Cloud Wednesday at 6 p.m. on B107.5 and kscbnews.net.
Sat. Feb. 11
D2#8 Highland def Kansas City KS 70-54*
D2#1 Johnson County def Fort Scott 72-38*
Hesston lost to North Central Missouri 78-59
Cowley def Coffeyville 102-77*
Garden City def Barton 61-54*
Colby def Dodge City 60-56*
#2 Hutchinson def Butler 70-43*
#11 Seward County def Pratt 70-57*
#15 Independence def Labette 75-53*
Allen def Neosho County 51-47*