International Pancake Race Has A Full Slate of Runners
KSCB News - February 11, 2012 3:53 pm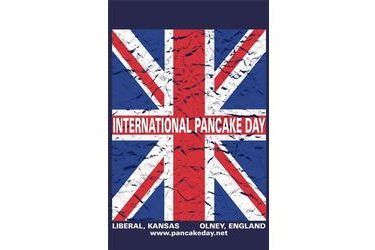 Liberal, Kansas — As the 63rd International Pancake Day Race between the women of Liberal, Kansas, and Olney, England, gets under way Feb. 21, 15 women in Liberal will flip their pancakes at the starting line, run the 415-yard course with skillets in hand, and flip the cakes once again at the finish line. All while dressed in the " traditional housewifely garb " of skirts, aprons and headscarves.
Liberal contestants this year range in age from 18 to 49 and include a veteran racer competing for the ninth time and a mom and her four daughters. Racers include Saira Ugarte, 19; Tessy Barnett, 38; Sonya Holman, 26; Kristen Manning, 26; Johnette Schwab, 22; Kendra Schwab, 18; Amanda Schwab, 49; Whitney Hampton, 25; Nique Brown, 29; Patty Rutledge, 44; Heather Olmstead, 25; Leslie Spikes, 29; Rene Boaldin; Kurstie Zepeda, 18; and Kaela Krueger, 19.
Tessy Barnett, who will be competing for the ninth time, is a homemaker and mother of three. As a veteran racer, Barnett advises first-timers to " just enjoy the race; don ' t push it too hard. " She said she continues to race because she loves the whole experience. " Getting first place is not my goal, " she said. She is married to local realtor Cory Barnett.
Rutledge, a personal banker at First National Bank, has run three times in the past, she said, placing second, third, and fourth. She enjoys running and is telling herself " I just have to get across that finish line. "
Other returning racers include Amanda Schwab, who ran in 1998, and her daughter Whitney Hampton, who competed in 2009. Joining them are Amanda ' s other daughters, Nique, Johnette, and Kendra, all first-time racers. The Schwab family is making history as the largest family group ever to compete in the race (see separate story).
Also racing will be three Seward County Community College/Area Technical School students, Boaldin, Zepeda, and Krueger. This is the first race for Boaldin and Zepeda, and the first official race for Krueger, who ran last year in an honorary role as Miss Liberal. Krueger said " I run regularly, so I ' m just telling myself, ' Run as fast as you can! It ' s only 415 yards! '"
Boaldin said she is preparing by " running as usual and flipping pancakes in my head! "
Zepeda entered the race because she loves getting involved in community events, she said. " I am keeping in shape and just saying that I ' m going to enjoy it, no matter what. "
Other first-time racers include Olmstead and Holman, who both work at the Seward County Sheriff ' s Office. Olmstead is a records clerk and Holman is an administrative assistant. Olmstead has two children, the youngest just a few months old.
" I started a diet a month after my daughter was born in November, and so I ' ve been losing weight and doing a little bit of exercise, " Olmstead said. " I have always wanted to race but always chickened out. I figured this was a good year to try it. " She is married to Eric Olmstead, a teacher at Liberal High School.
Holman has three children and is married to Jeff Holman. Her good luck charms will be " my husband and kiddos at the race cheering me on. " She is exercising and eating healthier to prepare for the big day and said, " I ' m going to give it my all and make sure I have fun while doing so. "
Rounding out the field are Spikes, Manning, and Ugarte, all first-time competitors. Ugarte is a doctor ' s assistant at Liberal Family Chiropractic and has one child. She is married to German Yanez. Manning also has one child and is a sales associate at Claire ' s.
Spikes is a district conservationist for USDA-NRCS. She is married to Corey Spikes and is a mother of two. She said she entered because " family and friends ' encouraged ' me to enter, even if it is a little out of my comfort zone. " Spikes enjoys running long distances and will be counting on her favorite running shoes and her under armour tights to give her the boost she needs.
The competition between Liberal, Kansas, and Olney, England, is the only race of its kind on the planet. Th e overall score stands at 36 wins for Liberal and 25 for Olney. (In 1980 the score didn't count, because a media truck blocked the finish line in Olney.)
It all started in 1950 from a magazine picture of the Olney women racing each other to the church. Liberal Jaycee President R.J. Leete contacted the Rev. Ronald Collins, Vicar of St. Peter and St. Paul's church in Olney, challenging their women to race against women of Liberal.
In Olney, the Pancake Race tradition dates back more than 500 years to 1445. A woman engrossed in using up cooking fats (forbidden during Lent) was making pancakes. Hearing the church bells ring calling everyone to the shriving service, she grabbed her head scarf (required in church) and ran to the church, skillet and pancake in hand and still apron-clad. In following years, neighbors got into the act and it became a race to see who could reach the church first and collect a "Kiss of Peace" from the verger (bell-ringer.) The kiss is still the traditional prize in both races.
Racers must still wear a head scarf and apron and the runner must flip her pancake at the starting signal, and again after crossing the finish line, to prove she still has her pancake.
Winning scores have traded back and forth between the two towns. Last year's winner was newcomer Nicole Schowengerdt, 28, of Liberal, who finished in 63.41 seconds. She has moved and will not be racing this year. The record time was set in 2009, when Liberal's Tasha Gallegos won with a time of 57.5 seconds, breaking the previous record held by Liberal's Lisa Spillman since 2001. Spillman, a three-time winner, finished the 415-yard S-shaped course in 58.1 seconds that year.
The Pancake Day celebration will stretch over four days in Liberal, beginning Sat. Feb. 18 with pancake flipping, eating, and cooking contests. Other events will include a Christian music concert Saturday night, the Miss Liberal Pageant, and a talent show. Pancake Day itself begins with a breakfast, followed by children's races, a men's race, and a Women's Last Chance Race. The International Race between Liberal and Olney begins at 11:55 a.m. The race is followed by a shriving service, a live video chat with Olney, England, and a parade. For more information and a complete schedule, visit www.pancakeday.net < http://www.pancakeday.net > or call 620-624-6423.