Hutch and their Height Top Saints
KSCB News - January 29, 2015 7:25 am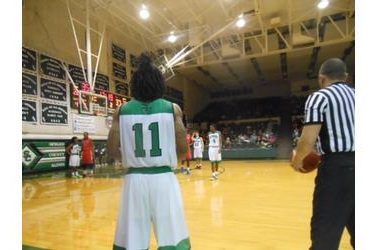 The Seward County Saints don't have any size. Their tallest players are 6'5" with the suspended 6'9" Jamal Poplar out of the lineup. The #18 Hutchinson Blue Dragons took advantage of that reality Wednesday night with a 75-65 win over Seward in the Green House. The Blue Dragons out rebounded the Saints 47-33.
The Dragons were breathing fire early leading the Saints 15-4 seven minutes into the game. Seward would rally and tie the game at 30-30 at the half. But HCC shot 57 percent in the second half while the Saints shot 31 percent in the second half. Seward also misfired at the foul line going 12-21. Secean Johnson scored 19 and Tyreke Sharp scored 16.
Seward is 10-11 and 3-5 in the Jayhawk West. Hutch is 18-4 and 5-3. Seward hosts Barton Saturday night at 8 in the Green House. Ruffino's and Hampton Inn are the buyout sponsors for the game which airs on B107.5 and kscbnews.net.