How the West was Won
KSCB News - October 29, 2011 3:07 am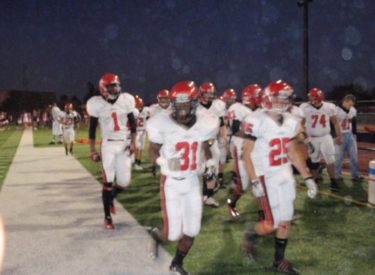 In what was an otherwise lost season, the Liberal Redskins rose up one last time. With the final seconds ticking off the clock, Liberal's defense stopped Wichita West (1-8) from scoring from the two and won the game 42-40. Liberal finishes 2-7 but the win gives the Redskins a pulse into the off season.
Wichita West scored the first two touchdowns of the game. West's Arnez Jones scored on a one yard run at the 5:48 mark before West recovered an onside kick at the LHS 41 and would later score on a five yard Jone run. After a 69 yard Britton Abbott touchdown run was waved back due to a holding call, LHS trailed 14-0 after the first quarter.
Abbott found Trenton Hammond for a 28 yard touchdown to make it 14-7 at the 9:13 mark. However, a Jone 10 yard run made it 20-7 Pioneers with 6:29 to play in the first half.
Abbott's 10 yard run at the 4:51 mark made it 20-14. Abbott's two yard run with 46 second remaining in the first half gave LHS a 21-20 halftime lead.
Daquan Brown's 40 yard TD run at the 8:22 mark in the third quarter made it 28-21 West. Abbott's second interception of the half turned into a key play of the half because West fumbled the interception. Liberal would go on and score on Abbott's eight yard TD run to tie the game at 28 with 5:25 to play in the third.
A Jone two yard scamper gave West a 34-28 lead with 1:28 to play in the third. Abbott's 73 yard TD pass to Trenton Hammond on a seam pattern gave LHS a 35-34 lead with 1:20 to play in the third quarter.
Abbott's eight yard scoring pass to J.J. Lewis gave LHS a 42-34 lead. A Jone eight yard run made it 42-40 with 4:18 to play. Britton Abbott tackled Jones at the one holding West shy of the two point conversion.
Liberal got the ball back but couldn't put the game away. West got the ball on the LHS 35 but didn't have any time outs remaining and ran one final play from the two but were stopped short.
Britton Abbott ran for 145 yards, three touchdowns, and pass for three touchdowns. Hammond caught two TD's giving him nine for his sophomore season. West's Arnez Jones rushed for 240 yards and five touchdowns. West gained 432 yard to Liberal's 294.