Grain Truck Caused Cimarron Train Derailment
KSCB News - April 7, 2016 7:38 pm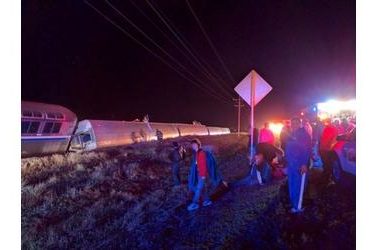 WASHINGTON – The National Transportation Safety Board has released its preliminary findings in a train derailment that occurred near Cimarron, Kan. in mid March.
The report blames the March 14, 2016 derailment on a grain truck that pushed the rails out of their normal track when it cross the track at mile post 373.07.
The NTSB report said there was an abundance of evidence that the tracks were pushed out of alignment, including forward-facing video from the train's locomotive, tire tracks at the scene of the crossing indicating the type of truck that crossed the tracks, fresh damage to the railroad ties beneath the tracks, and a small amount of flaked corn which is used as cattle feed that was found at the feed lot that owned the truck. Investigators also said they found fresh damage to the truck's front bumper.
NTSB said the speed limit for passenger trains in the area where the derailment occurred is 60 mph. A review of the train's event recorder showed it was traveling at the speed limit when the emergency brakes were applied.
The report said the probable cause of the derailment will be determined when the investigation is complete.