Galindo Chosen for All Star Weekend
KSCB News - July 8, 2015 1:39 pm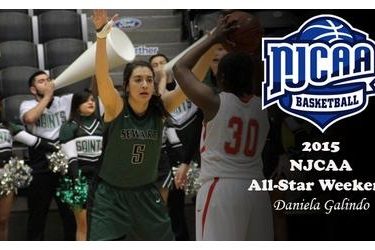 ollowing a standout freshman season for the Seward County Lady Saints, soon to be sophomore Daniela Galindo has been invited to the NJCAA Women's Basketball Coaches Association's All-Star Weekend in Niceville, Florida July 23rd through July 26th. The event includes team practice sessions as well as game competition at Northwest Florida State College.
Galindo will be in the middle of a group of 40 of the best sophomore players that the NJCAA ranks has to offer when she heads to the Sunshine State. Players from NJCAA Division I, Division II, and Division III will be represented at the event. Galindo is one of just two KJCCC players that have been invited to the event, joining Coffeyville's Jazmine Torian who did not play when the Lady Saints and Lady Ravens hooked up in this year's Region VI Tournament Semifinal matchup.
Galindo played in all 34 games for the Lady Saints in 2014-2015, helping lead them to a top 10 ranking in each of the NJCAA's regular season polls as well as a trip to the NJCAA National Tournament Sweet 16. She averaged 12.4 points and 4.1 rebounds per game for Seward, also stepping it up on the defensive end where she averaged just under 2 steals per contest. A dead eye from the outside, Galindo nailed 81 three pointers on the season, 4th most in a single season in school history while entering the school's top 10 career list in the category after just one season. Galindo's season got jumpstarted against Trinidad State on the day after Thanksgiving in Garden City where she scored 20 points in a blowout Seward win. She would go on to score in double figures in nine of the Lady Saints next 10 games and finished the season by scoring 10 or more 21 different times and topped the 20 point mark on seven occasions. Her hottest stretch of the season came in early February where she 73 points in a three game stretch for the Lady Saints in wins over Pratt, Colby, and Cloud County, raining in 14 three pointers during that span. Her seven three point makes against Cloud County at the tail end of that stretch marked the third most triples made in a single game in school history. She posted her lone double-double of the season for the Lady Saints in a win over Colby, scoring 21 points and hauling in a career high 10 rebounds.
Galindo and the Lady Saints will open their 2015-2016 season in the Sports Arena in Hutchinson when they take on Tabor College on Friday, October 30th. Fans will get a sneak peak at the squad on Tuesday, October 27th when the Lady Saints hold their annual Basketball Preview Night in the Greenhouse.
Roy Allen