Former Saints Playing All Around the Country
KSCB News - April 23, 2014 2:05 pm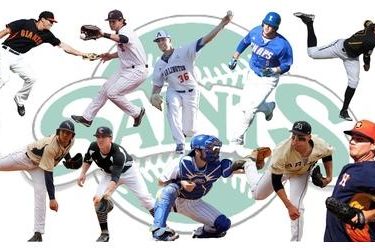 With college baseball regionals right around the corner and professional baseball heating up, it is time to check in on our former Seward County baseball players continuing their careers at the next level.
Jake Barrios- Senior- Texas Tech University- NCAA Division I
One of just six seniors on the Red Raiders roster, Barrios has been a key to a 32-12 breakout season for Texas Tech. Barrios has played in all 44 and started 43 games for Texas Tech this season, hitting .278 with 8 doubles and 22 RBI's on the year. As good or better on defense as he is with the bat, Barrios has anchored the Big 12's top rated defense with his glove at third base, posting a .964 fielding percentage with just 4 errors in 131 chances this season.
Francisco Bolanos- Junior- University of Science of Arts of Oklahoma- NAIA
Bolanos has been a mainstay in the USAO lineup this season, playing in and starting 36 of the Drovers 42 games this year. Bolanos is hitting .310 with 3 doubles a home run, and 12 RBI's on the season. USAO is 22-20 overall this season and 12-12 in Sooner Athletic play.
Diego Cruz- Junior- Bacone College- NAIA
Cruz has helped Bacone to a 28-17 record this season and a 13-7 mark in Red River Conference play where they are comfortably in 3rd place. Cruz has played in 27 and started 20 games for the Warriors, hitting .239 with 2 doubles and 13 RBI's. Cruz has also taken his stellar defensive play to Bacone with him where he has gunned down 9 opposing basestealers this season and is 4th among Warrior regulars with a .986 fielding percentage.
Bobby Doran- Oklahoma City Redhawks- AAA
Doran has moved his way up the ranks in the #1 farm system in minor league baseball for the Houston Astros and now sits just one step away from the big leagues in AAA Oklahoma City. Doran has been nothing short of spectacular in his last two seasons, posting a combined 25-8 record in jumps from High-A to AA and finally to AAA. Through five outings this season Doran has not gotten a decision and has an 8.15 ERA in 17 2/3 innings of work.
Gavin Glanz- Senior- Oral Roberts University- NCAA Division I
Glanz has been spectacular for Oral Roberts this season, posting a 2.97 ERA which is 2nd best on the team, with a 2-3 record in 2014. Glanz is also 2nd on the Golden Eagle staff with 57 2/3 innings pitched and has fanned 31 opposing hitters this season. Glanz's 10 starts are 3rd most in the Southland Conference this season and his 2.97 ranks 12th.
Jose Gonzales- Senior- Sul Ross University- NCAA Division III
The winning pitcher for Seward Head Coach Galen McSpadden's 1000th career win, Gonzales is a key piece to the pitching staff now at Sul Ross University. Gonzales is 5-4 this season in 11 starts, posting a 6.91 ERA in 57 1/3 innings of work on the mound. Always a big strikeout pitcher, the lefty has fanned 43 opposing hitters this season.
Johnny Griffith- Junior- Army- NCAA Division I
Griffith has taken his two-way play to the Division I level this season as he suits up for Army. Griffith has had a solid season on the mound, going 2-0 with 3 saves thus far, posting a 2.00 ERA in 9 innings of work. Griffith has struck out 9 batters and opposing hitters are hitting just .219 against him. He has also drawn 19 at bats on the year, hitting .211 with a double and an RBI.
Hayden Howard- Redshirt- Texas A&M University- NCAA Division I
Howard is a part of a loaded Texas A&M pitching staff this season and will take a redshirt with the Aggies.
Keegan Hucul- Senior- University of Texas-Arlington- NCAA Division I
Hucul is playing for another former Saint Darin Thomas at the University of Texas-Arlington. Hucul has appeared in 9 games this season, notching a 6.57 ERA in 12 1/3 innings pitched. He has yet to pick up a decision during his senior season and has recorded one save. UTA is 17-23 overall and 9-9 in Sun Belt action.
TJ Looney- Junior- Wichita State University- NCAA Division I
The Saints first Shocker in recent memory, Looney has thrown in 7 games for Wichita State this season helping them to a 21-19 record. Looney is 0-1 with an 11.37 ERA this season in 6 1/3 innings pitched, his brightest number comes in opponents' batting average which sits at a team best .200 on the year.
Jon Mestas- Windy City Thunderbolts- Independent
A star third baseman on the Saints 2011 World Series squad, Mestas is in his second professional season and this year will play with the Windy City Thunderbolts in the Frontier League. The 'Bolts will begin their Spring Training shortly with their regular season opening on May 16th.
Deven Nelson- Junior- Adams State University- NCAA Division II
Nelson has been a key cog in the lineup for Adams State this season, playing in 32 and starting 30 of the Grizzlies 42 games on the year. He is hitting .295 with 5 doubles and 25 RBI's on the year and is tied for 2nd on the team with 3 home runs.
Sam Pack- Senior- South Dakota State University- NCAA Division I
Seward County's 2012 WA Schufelberger award winner Pack has played in 21 games for South Dakota State this season, helping them to a 20-18 overall record and a 5-5 mark in Summit League action. Pack is hitting .264 on the year with a double and a pair of RBI's in 53 at bats. He has been solid behind the plate, posting a .975 fielding percentage with just 2 errors in 81 chances.
Cory Patton- Amarillo Sox- Independent
The finest player in Seward County baseball history, Patton will be in his ninth professional season this year with the Amarillo Sox. Patton has amassed nearly 1,000 hits and over 500 RBI's in his pro career. He holds a .279 career average and has his 122 professional home runs. Patton has also dabbled on the mound the past five seasons, posting a 5-4 record and a 4.00 ERA in 79 appearances.
Tanner Rainey- Senior- Lubbock Christian University- NCAA Division II
Rainey is in the midst of another big season for the high powered Lubbock Christian offense. Rainey is hitting .326 with 8 doubles and 15 RBI's for the Chaps and has started 38 of 42 games this year. Lubbock Christian is 32-10 overall on the season and lead the Heartland Conference at 23-4. The Chaps are ranked 17th in the latest NCAA Division II rankings but will be ineligible for postseason play due to their transition to the Division II level from NAIA.
Alex Scanlan- Junior- Campbellsville University- NAIA
Scanlan has been a key piece to the puzzle for Campbellsville this season, helping the Tigers to a 25-17 start to the year and a 13-10 record in Mid-South Conference action. Scanlan has played in all 42 games for the Tigers, batting .282 with 4 doubles and 21 RBI's on the year.
Garret Smith- Redshirt- William Jewell University- NCAA Division II
Smith will redshirt this season on a senior laden William Jewell pitching staff.
Ty Thomas- Junior- Fort Hays State University- NCAA Division II
Thomas is 2nd on the team with 13 appearances for Fort Hays State this season, pitching out of the bullpen 12 times with 1 start this year. He has posted a 1-0 record with a 10.12 ERA in 2014, tossing 21 1/3 innings and striking out 12 opposing hitters. Fort Hays is 17-25 overall and 14-22 in MIAA action.
Kelby Tomlinson- Richmond Flying Squirrels- AA
Now in his fourth professional season, Tomlinson has made the move from shortstop to second base for the San Francisco Giants AA affiliate, the Richmond Flying Squirrels. After a slow start to the season, Tomlinson has gotten things going of late and is now on a modest four game hit streak and has bumped his 2014 average up to .179. Renowned for his speed, Tomlinson has 6 stolen bases on the year which ranks 2nd in the Eastern League.
Tyler Wiedenfeld- Junior- Stephen F. Austin- NCAA Division I
The Saints ace a season ago, Wiedenfeld has turned into a closer at the Division I level where he has thrown in a team high 15 games for former Saint Johnny Cardenas and Stephen F. Austin. Wiedenfeld is 1-1 with 5 saves on the year and is third on the team with a 2.67 ERA. He has logged 30 1/3 innings for SFA, striking out 19. His 5 saves are tops in the Southland Conference.
Eddie Williams- Senior- Colorado State University- Pueblo- NCAA Division II
After Tommy John surgery put a knife in his 2013 plans, Williams has recovered fully and is the starting catcher for the 'Pack during his senior season. Williams has played in 39 of 41 games from CSUP and is hitting .207 with 5 doubles and 16 RBI's. Following a four game sweep of Metro State, CSUP is now just 2.5 games out in the race for the RMAC Plains Division title at 19-11.
Roy Allen