Five Saints Garner All Jayhawk West Honors
KSCB News - May 17, 2016 12:44 pm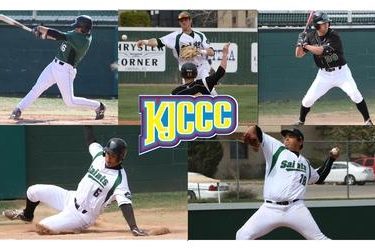 Five Seward County Saints were named All-Jayhawk West on Tuesday as lefthander Jakob Hernandez was named both the Pitcher of the Year in the league and a 1st Team All-Jayhawk selection, while designated hitter Antonio Dorado was also a 1st Team pick and first baseman Logan Nethercot, shortstop Judah Sweat, and outfielder Justin Graff-Rowe were all 2nd Team selections.
Sophomore pitcher Jakob Hernandez headlined the five Saints named to the All-Jayhawk West squad on Tuesday. Hernandez was named the Jayhawk West Pitcher of the Year and a 1st Team All-West pick after capturing the pitching triple crown in 2016, leading the league in wins with 10, strikeouts with 159, and ERA at 2.33. In Jayhawk West play, Hernandez's numbers were off the charts as he tossed six complete games in his eight league starts while averaging 15.68 strikeouts per nine.
Designated hitter Antonio Dorado also earned 1st Team honors during his sophomore season after leading the Saints and finishing 7th in the league in hitting at .399 this year. Dorado ripped a team best 24 extra base hits in 2016, lacing 18 doubles and crushing six home runs. He drove home 46 on the year, finishing second on the team in that category. In conference play Dorado was even better, hitting .430 with five home runs and 30 RBI's despite playing in just 24 of 32 games due to injury.
Judah Sweat was the lone Seward freshman to be honored on Tuesday as the Saints shortstop picked up 2nd Team All-Jayhawk West accolades. Sweat hit .332 in the middle of the Seward order, cracking 11 doubles, three triples, and three home runs on the year while driving in 35. In Jayhawk action Sweat ramped things up a little bit, hitting .375 with 23 RBI's in 32 Saints games.
First Baseman Logan Nethercot joined Sweat on the 2nd Team after hitting at a clip of .361 on the year. Nethercot smacked 16 doubles and had five long balls on the season, driving home 41 in 2016. He hit .383 while starting all 32 Jayhawk West games for the Saints, hitting all five of his home runs in conference play and driving home 27.
Sophomore outfielder Justin Graff-Rowe also collected 2nd Team All-Jayhawk West honors after he hit .376 for Seward, leading the team in triples with five, home runs with eight, and RBI's with 47. The model of consistency, Graff-Rowe had the exact same .376 batting average in Jayhawk West play than he did outside of it, clubbing 16 extra base hits in conference contests while driving home 27.
Colby's Marvin Malone was named the Jayhawk West Most Valuable Player while Trojan Head Coach Ryan Carter was named the Coach of the Year. Hutchinson freshman Caden Doga took home Freshman of the Year honors while Garden City led all teams with eight All-Conference selections.
JAYHAWK WEST ALL-CONFERENCE TEAM<http://www.kjccc.org/sports/bsb/2015-16/files/2016_ALL-KJCCC_WEST.htm>
Roy Allen